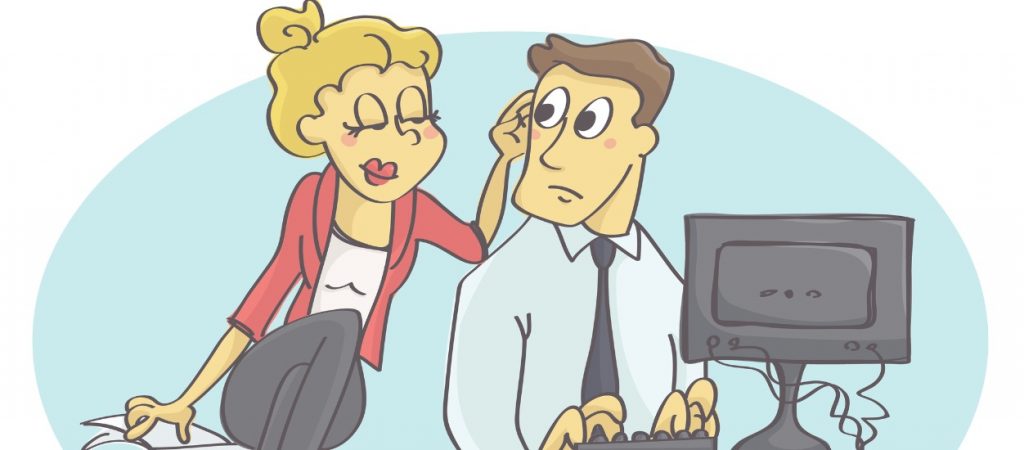 According to the United Nations' Secretary General's Bulletin of February 11, 2008
"Sexual harassment is any unwelcome sexual advance, request for sexual favour, verbal or physical conduct, gesture of a sexual nature, or any other behavior of a sexual nature that might reasonably be expected or be perceived to cause offence or humiliation to another… Sexual harassment may occur between persons of the opposite or same sex. Both males and females can be victims and offenders."
Sexual harassment can come in many forms such as
Actual or attempted rape or sexual assault.
Unwanted pressure for sexual favors.
Unwanted deliberate touching, leaning over, cornering, or pinching.
Unwanted sexual looks or gestures.
Unwanted letters, telephone calls, or materials of a sexual nature.
Unwanted pressure for dates.
Unwanted sexual teasing, jokes, comments, remarks, or questions.
Referring to an adult as a girl, hunk, doll, babe, or honey.
Kissing sounds, howling, and smacking lips.
Telling lies or spreading rumors about a person's personal sex life.
Giving an unwanted and uncomfortable neck massage to someone.
Touching an employee's clothing, hair, or body.
Hanging around a person or stalking them while imagining perverse things.
Unwanted hugging, kissing, patting, or stroking.
Touching or rubbing oneself sexually around another person.
Standing close or brushing up against another person's sexual parts.
Looking a person up and down (elevator eyes).
Staring at someone.
Giving unwanted and uncomfortable, sexually suggestive signals.
Facial expressions, winking, throwing kisses, or licking lips.
Making sexual gestures with hands or through body movements.
Source: UN Women.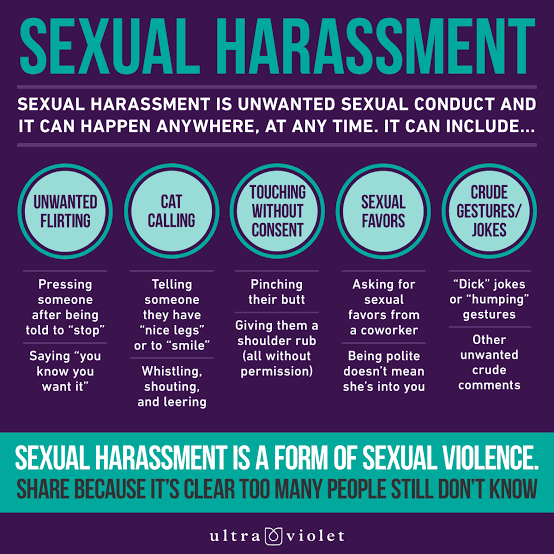 What can I do when someone attempts to/or is sexually harassing me?
Tell the perpetrator CLEARLY that you are uncomfortable with his or her behaviour. Don't be shy, say NO firmly, effectively and emphatically because it's important that you are more firm than polite, as politeness can be mistaken for comfort. If you are uncomfortable speaking to the perpetrator personally, send an SMS or an email to them stating your mind. This message, and the perpetrator's reply can be used as evidence.
Collect evidence by keeping and recording any correspondence between yourself and your harasser. Make sure to note down the dates, times, places and people who were present when an unwanted sexual behavior ensued between the two of you. This is more evidence.
Don't keep this to yourself, immediately tell someone qualified who can be sure to give you help and support — someone you trust. Talk to friends or family members that you trust about the incident, even if they were not present at the harassment scene.
If you have been sexually violated, immediately go to a hospital for medical assistance which can serve as evidence.
… but there's someone at my office who keeps sexually harassing me, what should I do?
Avoid situations where you and the harasser would be alone.
Confront your harasser and let him or her know that what they did is inappropriate. Sternly tell them to stop.
If personal confrontation fails and the harassment continues, consult your HR department or another superior with your evidence if possible, and let them investigate the issue. Your evidence could also be in form of written evidence about the situation, this way your company is aware of the situation and has a legal obligation to act. If you choose to resign or take any legal action against the perpetrator, at least your company can be said to have been aware of the situation.
Muster up your courage and evidence if you have any. Be mentally prepared that not everyone might support you and your colleagues might not agree to be witnesses.
Call a helpline, consult with a reputable organization like the Mirabel Center, or any others around you, that offers help to victims, speak to a lawyer or make a police report
Source: AWARE.

It's hard on me…
Yes it's true. Being sexually harassed can be mentally traumatic to anyone whether male or female. And in environments where victims of sexual harassment or sexual violence are blamed and shamed for their circumstances, and even in situations where the perpetrator is an uncle, a religious leader or a reputable member of the society, fear and shame can keep the victim in a silent and depressing pain for a very long time. If you are a victim, it's advised that you speak to someone qualified and someone you can trust about your present situation. It's important that you also seek counseling for the psychological trauma and discomfort you might be going through. Check out the Domestic and Sexual Violence Response Team (DSVRT).
Remember, you are cared for, you matter and you're not alone. Read Rape and Victim Blaming in Nigeria by Amaka Ekezie.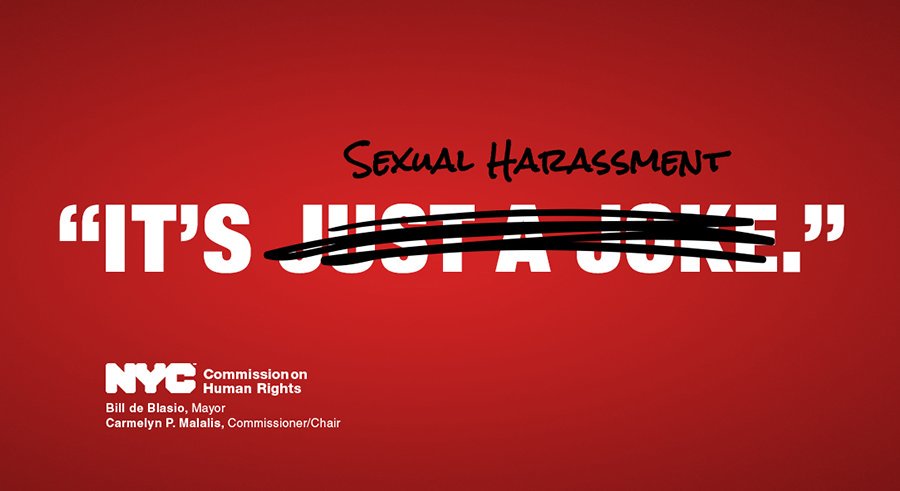 By Mirabelle Morah