A lot of people who begin their NGOs or social enterprises start with big dreams and big ideas. They go to the big places and cities to execute their visions, but some others like Tony Joy have decided to go directly to the grassroots to bring real solutions to real issues. Meet Tony Joy, a social entrepreneur, 2022 Askoka Fellow and the Founder of Durian Nigeria.
At 16, Tony developed a wave of inner anger against marginalization, discrimination and bias within society and as a result of her experiences, she never wanted to see people being treated without value because of their social background or because they come from rural communities. Her passion and quest to support women in rural communities drove her to begin Durian Nigeria, a non-governmental organization that gives rural women the knowledge and skills they need to turn their local waste into reusable items and a source of income. Today through the amazing work she does at Durian, Tony has helped rural people, especially women to understand the value of who they are and how to maximise the resources they have.
After several years of working closely with the people, observing, surveying and taking feedback to continuously improve lives, Tony has developed long-term strategies and several initiatives to support women and these initiatives are helping the beneficiaries to become self-sufficient wherever they find themselves, whether in rural areas or in a new town.
When many people think of waste materials such as plant waste, banana leaves, coconut shells and others, where they see a non-reusable item, Tony sees a beautiful resource that can be reused in the most sustainable and healthy way, and she's training many rural women to see possibilities where others see impossibilities, hence changing their life stories and increasing their earning prowess.
Tony constantly works hard and believes in the importance of changing the narrative so that rural communities are seen as "cool and creative" rather than poor and marginalized.
Vocational training at Durian Nigeria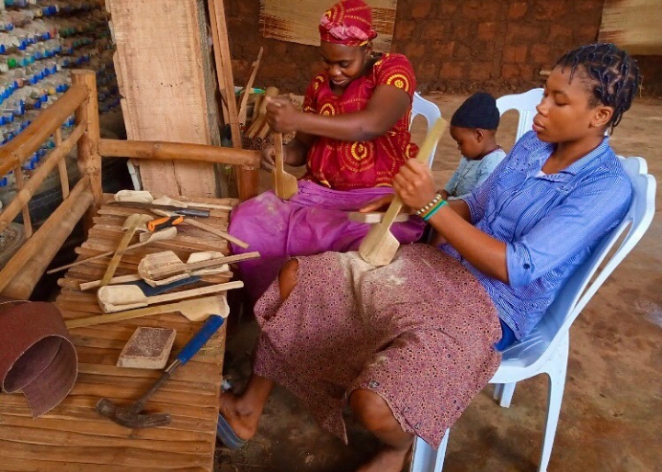 Durian's vocational trainings are under three major umbrellas namely:
Bamboo Villa
Skincare Villa
Fashion Villa
Through these, the team gives women training in various trades, teaching them how to make bamboo furniture, accessories, jewellery, and musical instruments in the Bamboo and Carpentry Villa. After completing their training, the graduates are competent to work with carpenters and bamboo craft shops or to begin their own businesses. She also teaches young people how to make organic skincare products including black soaps.
Her team further leverages sustainable technologies, partnerships, and collaborations to build progress that fosters community change and development. Tony firmly believes in bringing about change from within and this has driven her to deliberately work within communities to ensure that they are in charge of the transformation. She has a keen interest in knowledge exchange and learning, particularly in the fields of economic empowerment, female empowerment, rural development, small-scale food production and farming, career training, waste management, and personal development. In her words, "I have big dreams and I'm committed to starting small, learning from experience and staying consistent"
Tony is an inspiration to many African youths and just like Tony, we should learn to believe in fostering change from within and deliberately work towards creating sustainable impact.
You can connect with her on Instagram, Twitter and LinkedIn.