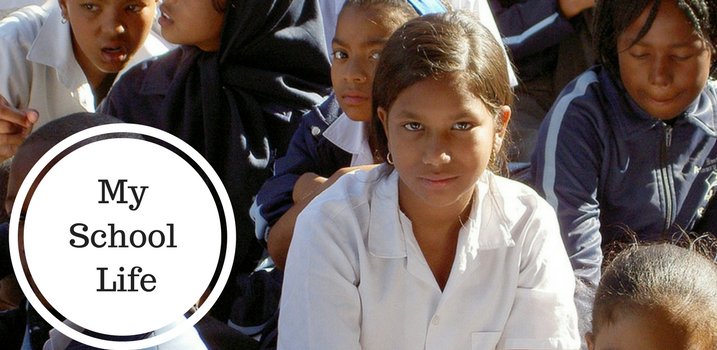 ***DAY ONE***
I remember when I began school, I was barely three years old yet eager to be in school like my senior brothers. Mama had taken time to bath me, applying my favorite baby pearl lotion, my hair had already been braided and I finally got to wear my new school uniform. The color was dull and not particularly my favorite, but still I wore it proudly with a silly grin.
After appraising my new look in my uniform, mama smiled in approval and said "my baby is all grown up, now starting her first day in school."
In which my dad had replied with a slight pinch to my chubby cheeks. My brothers stood in the background cooing noisily, already in their school uniform. I had three brothers; the two eldest were already in their junior secondary, while the one I followed was still in primary school, the same school I would be attending.
After much teasing and frolicking with my new look, Mama had taken me and my brother to take a bike. I was skittish, my nervous system was acting up, and my heart beat had taken a familiar beat of thud, thud, thud… I was excited as well as nervous.
When mama had assisted me off the bike with my brother, I remember clenching her hand in a tight grip as we slowly approached the school compound. Mama paused at the proprietress' office, and I barely took notice of my brother running in another direction, while mama discussed with the proprietress. I remember being called by the proprietress, but I couldn't reply because my face was shoved into mama's dress as I looked away in shyness. Mama had finally completed her discussion and she took me to a class that was meant to be for me.
With a kiss on my temple, mama said "learn well sweetheart." And then she dropped me off with a fair lady, who in return took my chubby hands in hers. Confused, I turned to look at mama's retreating figure, as she turned to blow me a kiss. Why was she leaving me? I pondered, she had gone far and with haste I called out to her "mama!" but she just smiled. Why was she leaving me with this woman? "Mama!" I called again this time frantically, but she kept going. Frustrated I tried shoving the lady aside, who held me in a firm grip; she wouldn't let me go "mama!" I cried, tears falling down my eyes, as her figure slowly disappearing only a silhouette that was barely visible. Mama had gone, she had left me…my cries became louder and louder, as I continually struggled in the lady's hold. As I cried, I failed to notice the curious eyes of the young children, as they looked on at my teary face. Embarrassed that I cried in front of strangers, I quickly lowered my head. As the lady pulled me into the class room, she sat me down on a wooden chair with other children. Silent sniffles quickly being overcome by talkative children blabbering nonsense, I laid my head on the table blocking out all the sounds around me emitted by the children. My eyes became drowsy, as my breath slowed and my sniffles less; my cries ceased.
About dozing off, I felt a tap on my shoulder, startled; I turned my head to look at the culprit. It was a girl, tribal marks adorned her cheeks and when she smiled at me, her missing tooth was visible, she waved her palm in my face and I looked on puzzled wondering what she was doing, but then she said in a tiny voice, "sorry." My reply was a sniff, as I blinked my small eyes at her.
Throughout that day, I had kept to myself, only listening as other kids introduced themselves, while I sat with a bored look on my face.
The bell had rang for break, and I remembered mama had put in my food flask pancakes with a lot of onions which I was not particularly fund of, my Aunty a plump fair lady and the other lady assisted us in pulling out our snacks so we can eat, reminding me of my brother's tales while in primary school, how his aunties ate his food, and sometimes dividing it to share to other kids. Silently I prayed as she helped me with mine, that she won't eat my pancake, but of course she was free to eat the onions, after all I was just going to throw it out. Maybe I could give her my water, because there was no way I was sharing my soya bean milk with her. I really liked it, and I was not sharing. My prayer was answered as she left me to assist the girl that had smiled at me. As I ate my food, my other aunty played Barney and her friends for us, and I found my head bobbing following the rhythm of the song. The rest of the class began singing and laughing in glee, as they watched Barney make a funny move; a particular move was so funny that my lips twitched slightly in an attempt at a smile.
"What is that?" the girl with the tribal marks asked. I looked down at what she was pointing at, it was my pancake
"Pancake." I said, doesn't she know how pancake looks like? Doesn't her mama prepare it for her? I looked at her, but she was already looking at me.
"Is it sweet?" She asked curiously
"Yes, it is. Would you like some?" I asked her, willing to share with her. Mama said that there's love in sharing. She nodded in affirmative,
"I don't know…mummy said I shouldn't take anything from strangers, if not I'll will collect winch." She said quietly. Winch? I've heard that word amongst our neighbors' children, but I never knew what it meant.
"But mama said there's love in sharing. What is winch?" I frowned at her.
"If you have winch, you will fly in the night." She said seriously
"What is wrong in flying in the night? Does it mean superman has winch."
"I don't know, but mummy said it's not a good thing, if you have winch, you'll go to hell fire. I don't want to go to hell fire." Hell fire was where the ugly man with honks was. He was Satan.
"Me too. I don't want to go to hell fire." I shivered "but my food does not have winch."
"Really?" she asked.
"Yes." I replied confidently
"Okay, can I have some?" I nodded and began dividing my pancake into two, making sure to give her the part that had more onions in it.
"Thank you." She said
"You're welcome." I said proudly like papa taught me.
Apparently she liked it even with the onions. It made me happy that I could give. Mama would be so proud.
By Abasiono Timothy
coming next…
DAY TWO
Born on the 5th of February, Abasiono Timothy hails from Akwa-ibom state but born and bred in Cross-river state. She's a typical Nigerian with a flair for writing; a creative and imaginative writer whose letters speak more than her voice. The characters in her head strongly remind her that life should be viewed from different point of view.
She believes that words created life.
"let there be light!" God had commanded and it was written "…there was light."