Dear Dove,
It was nice being around you today. I have this weird feeling of love, like teens in love for the first time, lols, I am still a teen.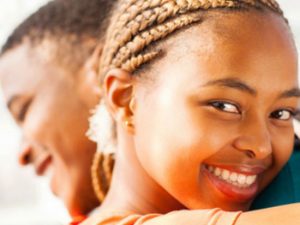 I feel butterflies all over my belly coupled with the stomach upset am having, all thanks to Mrs Beans, my worst meal. But mom's delicacy has to be my choice because I eat from her purse.
I feel so drowned in love… I can't shout for help, I'm so choked up in you and all I can do at this point is wish and imagine you understand.
At this point I don't mind if you don't love me, because all that matters is my love for you, which I long to express. I want to scream into your ears that I love you so so much, hold your neck playfully, make my hands your muffler for this rainy night, peck your neck passionately, play with your long nails and smile at you childishly, hoping you will understand the language and smile back.
But all these are on my mind, why can't I do them? I hear myself screaming from inside. I fear so much, I don't want to lose you, I feel so perfectly cool with you, I don't want to go away from you.
I want to build my world with you, just you and me — or maybe our children — no other person, because am a jealous lover.
I want my bosom your pillow, my navel your face pillow. I want us to be tabernacled in ourselves as we drink from ourselves, never getting tired of love making, as you give me my first experience of super love making and the deep passionate French kisses I watch in soap operas.
I Want to feel the gap in between your teeth and see if my tongue can go through.
I want my virginity seal split on your garment as an oath binding our love for years to come sealing it eternally as we consummate the well of pleasure and ecstasy locked in the honey within our being.
I wish…. I wish…. and am still wishing.
I'm brought to reality by the sudden drop of the fork from my sweaty hands with mum staring at my red wet smiling face relentlessly, across the dinner table.
"This is not the time…. Ada mama".. it sounded so audible like she was being aided by a megaphone.
"You have to wait for the right time, when you're ripe for him to come do the right thing and get you rightly, then your fruit will be plucked rightly so you both can enjoy the taste, nothing done in a hurry ever gets done well, Love is patient Nne, when it's time you will be plucked. "
That night as I retired to bed…..the only lyrics…. I could hear was my inner voice using mum's soprano singing
"This is not the time Nne, you are a lady in waiting…. Keep building your empire, you will be plucked when you ripen.
#WAIT
By Veralyn Ugian
About Veralyn
Mira says: Vera is a diamond in the rough. A very exceptional story teller and a poet. She's a 200L Student of English and Literary Studies at the University of Calabar, Calabar. She belongs to the Calabar Literary Society, works as an On Air Presenter, an actress and many more things we are still yet to discover.