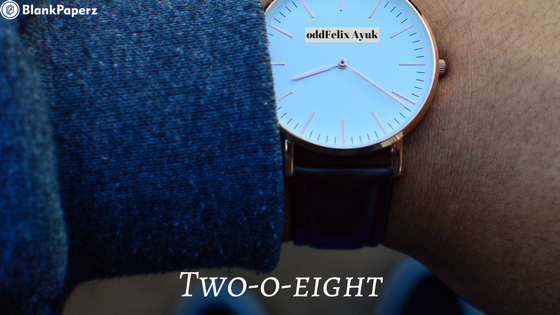 As papa drove, Joseph realised he had become more used to his environment than he knew. He could sing every Osadebe, Fela, Onyeka Onyewu and Lucky Dube's song that papa let blast through the speakers and he knew which roads papa would drive through, either to pass by a friend's house, or avoid some hold up, or stay away from some people he owed money. And he could tell how papa reacted to everything around him. Things had changed a lot for him, but not for papa, or so he thought.
---
On Monday, he hit his foot against a rock that was firmly rooted to the ground. He would have taken superstition more seriously if grandmother was around. He dismissed it as a shit that happened. But shit happened again on Tuesday. And just because he wanted this happening to be shit, he kept it to himself. He bled, but he took care of it by himself. He washed the wound when he got home and wrapped a piece of cloth around it till it stopped bleeding.
He became concerned on Wednesday when as he walked home with his best friend, Michael, he had kicked another piece of rock. Michael, who was a class clown had joked, "Oh boy, are you not the god of stone?" He told mama when he got home, also telling her what happened on Monday and Tuesday. Mama's ever smiling face was lost as soon as she heard his story. Mama chided him and told him to take everything that happened as a sign or a symbol, or a miracle.
That's why when he hit his leg on a rock on Thursday, he first checked the time on his watch. It was 2:08 pm. Then he ran home as fast as he could. Everyone knows that children don't run back from school with uniforms on, so it was a noticeable sight. Michael had tried to run with him, but gave up at some point. Evidence that no other person can react to your pain the way you will, because you are the one feeling the pain.
A crowd of known faces blocked the main entrance to the one room apartment that he shared with his parents. He tore his way through them and made it to the sitting room. Even before he saw the lifeless body of his mum being held in his dad's arms, he could tell she was dead. He heard someone say it. He had seen super-sad faces that confirmed it. He remembered the time he hit his leg on the rock. 2:08 pm. He ran to his dad.
"When did mama die?" He was trying to hold back his tears.
"Just now." Papa answered, trying to be a man and not cry.
"I know," Joseph was starting to break down, "when exactly?"
"Your mother screamed for me. I came and tried to help her. She kept asking me to check the time. She died eight minutes past two." This is when papa cried.
Now, Joseph tried to console him, so he could tell him what he noticed. When papa became calm, he said, "that's when I hit my leg on a rock today. I hit my leg everyday this week."
Papa stopped crying almost immediately. He looked up and hugged Joseph, not releasing him for minutes. Everyone watched as a calm, but aghast looking dad held his confused son without saying a word.
On Friday, papa called Uncle Tim, and after the phone call, he announced that Joseph would go to spend some weeks at his house.
---
Joseph knew that superstition was a fluke. But this incident seemed hard to recover from. It made what he once stood for hard to believe. They drove into Uncle Tim's large compound. Joseph concluded that the perfect blend of the trees, the pool, the residence and everything in it was a sight to behold. Papa got out of the car to greet Uncle Tim who stood just where the car parked.
Uncle Tim bent to talk to Joseph, "is this my little boy? You've grown a lot. Come down and give me a hug, won't you?" He turned to papa, "what do you feed him with? Fertilizer?" Then he and papa burst out laughing.
Joseph stepped out of the car, and as he walked towards Uncle Tim, a sharp pain flew through his feet from the toes to other parts. He looked down. He was bleeding. He had hit his leg on a little insignificant rock.
"Papa, don't go back today!" Joseph's voice brought silence.
Papa and Uncle Tim turned to look at him.
"Why?" Papa inquired.
"I just hit my leg again."
Papa's face was blank, like someone who just saw a whitewalker, "what's the time?"
Joseph took a look at the rubber wrist watch on his hand. He was too shocked to answer.
"Eight minutes past two," Uncle Tim said carelessly, "two-o-eight."
---
oddFelix Ayuk is a spoken word poet and stage rapper, a fan of storytelling and a business consultant. He writes and he blogs.