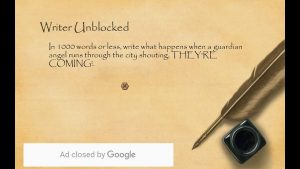 They sat in ethnic lines with hearts filled with great confusion. In their decisions, though it differs the various choices of the majority pulled down the rain amidst cloud. Silence had settled the cloud and rain fell in their heart. Their homes were left in a tyranny of hunger and starvation. Some of their puppies suddenly became thieves and the honest ones were desperate for survival that honesty became so strange to them for it was no longer marketable in the habitats in which they reside. They sat in their habitats without strength to dance as it were of yesterday after the illusion. Cow, a man very keen in the honesty of his brother remembered what happened in their country called Crook. He could not withstand the hunger that complicated his thought. So he called his brother,
"Goat," as he stood up from where he sat.
"I am coming," Goat replied as he dropped what he was doing and hurried to where his brother sat. He stared at him and understood that his brother wanted him to sit.
"Are you sure the Tortoise was not right when he said we should not trust a man desperate to give us such plenty when he has no evidence in his life?" Cow asked.
"Why will you trust Tortoise's statement? What did she know? Goat asked. He was surprised that Cow was suddenly complaining about the effort of the Caliph to fix the habitats when it was what they had solicited for.
"I don't know again but we had enough food to eat and the Power to occupy this Crook city when Chicken was the Precedent." Cow said. He was sad as he shook his head out of hunger and confusion.
"Our nation needs more than food. We need to build a nation that stands on its own and not food. The problem we are facing today is because Chicken allowed a lot of persons to steal our common wealth." Goat said. He wondered why people would enjoy such sin because they were filled instead of being righteous in the ways of hunger because it was supposed to make them self-sufficient.
"I know but even the food, we no longer have, and it is looking like it will continue forever. We might all die off before the plenty, promised by technological improvement proposed to us by the Bull, our own can become reality." Cow said. He remembered their Crook city of Chameleon Mine that easily bleeds foods of all kinds. Goat remembered that nature was closely clung on the environs in paved streets with its joy like dew drops of foods and prosperity on all without permission from mortals to wet.
"The action of Chicken is what is telling on us today. See you should know that getting filled begins with you." Goat said and Cow fixed his gaze on him. He did not understand why Goat would say such a word when he was aware that the Bull had suddenly sealed the heavens with his policies.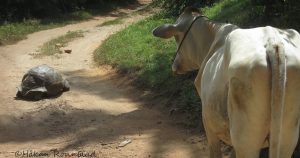 "All you do in this country is to sit and argue instead of rising and occupying this farm." Tortoise the Mother of the house said.
"Do hungry men rise? Where is the strength with which one need to match?" Cow sighed. He wished Tortoise would understand that a hungry man must be filled before he thinks of development.
"We don't need match woman! We need to concentrate our complaints about our own development. Time is changing; the free food is no more. We must stop this attitude of getting filled and boastful nature and think in our hunger like other nations so that we can create great future for posterity.
"I am a hungry man," Cow pleaded.
"Do I look like God? Well, I am going to church. You can come with me let us go tell God all are burdens together. Power must change hand." Tortoise remembered yesterday that the waterfalls had hosted birds in its nest and other animals all ate across its vast luring harvest in their dance to its music tunes.
"I will go with you but I must eat first." Cow said.
"Let us go to the Political campaign in Palm-land, there you will have a lot to eat and the Precedent is coming," Goat informed. His faith has not been shaken at all because he was convinced that suffering comes with plenty.
"We will go to Church first and move to Palm-land, it is a stone throw from the Church." Tortoise offered. They all agree and left their land for the Church. The church was filled with so many animals that Goat was surprised he did not know that they came to sort for respite for their souls. Their earthly communities now tormented them because they were perceived as being fraudulent from the decision of their guardian Angel. Eagle, the pastor was worried that all the tongues he spoke could not bring out the money from them.
"God will multiply you. God will fill you." Eagle said. He wondered what a dry congregation he was fated to administer that seeks from the Lord instead of sowing into the lord.
"Why are they all going when service has not closed?" Cow asked.
"Pastor was not supposed to say that and since he had said what they had waited for, they received it by faith and were hurrying home to wait for the Lord's plenty." Tortoise and joined the crowd that was all going to the Palm square. The square was filled to its brim with the church and the people were happy that they would be filled at least for the moment.
"We will fix everything in our habitat and you will know no hunger again. There is enough to eat and drink to demonstrate the start of our commitment" Loin the governorship aspirant said and the people cheered and hailed him then the Precedent collected the mic from him.
"A vote for him is a vote for me and…." The Bull stared in amazement as the field was devoid of people. He was alone with his political supporters without the masses.
By Onyekachi Onuoha
About Onyekachi
Onyekachi Peter Onuoha is a Master Student of the University of Lagos and holds a Bachelor of Arts in English and Literary Studies University of Calabar, Calabar. Idara (Kraft , 2012), Moonlight Lady (Kraft ,2012), My Father Lied (Kraft,2013), The Scream of Ola (Kraft ,2013), The Fears of Mama (Kraft ,2014) , Ijeuwa( Author house UK, 2015), The Drops of Fascination and other Poems, The Heresy of Gossip and Aluta Struggle are some of his works. Most of his works are studied in Nigerian Universities. Twitter@Onyipoet