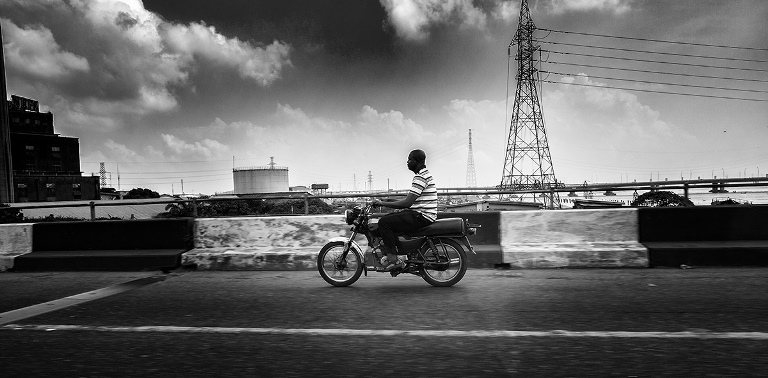 Lagos 6:49am
"Today is no different than yesterday,"
Chibuike thought, except for the rain that was falling heavily. The fiery color of lightning ran across the sky and a thunder struck, almost deafening the ear. At a young age, Chibuike loved playing in the rain. An act that always left her flogged, but she considered this worth the joy. Now, she could not afford those excesses because of the strong hold of maturity that was wrapped around her.
The same went for the way she talked, no longer free to voice her thoughts, because someone else might not approve. The way she walked in a defined manner, conscious of the gaze of every passer-by, and the way she dressed making sure not to draw attention to herself. She stood up and dragged herself to the window, watching the rain pour its mightiness upon the earth. She couldn't tear her gaze from the rain, admiring it in ways she could not admire herself.
The way the rain made a dramatic and beautiful intrusion into the organized and decorated atmosphere of men, falling whenever and however it wanted, rendering all under its shower equal; a careless showcase of authority.
Chibuike slipped out of her thoughts and became aware of time and how fast time had flown.
"Oh my God! How come?" She asked no one in particular. She had never been late to her job as lateness was never condoned. She was having a nervous breakdown. In the next 15 minutes she was ready to leave.
"Where are you? You are late for the meeting! " The message from her Boss read.
"Sir, I am almost there," she typed back.
She imagined what her boss would do if he found out she was just leaving the house at that moment. He would fire her. This was how serious the meeting for today was; where major shareholders and sponsors of the company would be looking for reasons to continue to be in the partnership. 
The morning became a race for her in the rain. She ran out through the door, getting outside the compound almost hailing a bus before she noticed her house key was not with her, meaning that her door is unlocked. She sighed, frustrated and ran back in to lock her apartment. Afterwards, securing the key in her bag. She rushed outside hoping to meet the bus, only to find out that the bus had gone. She ran down the street, being careful not to allow the muddy waters splash on her clothe. Her wristwatch indicated that she was thirty minutes late to the meeting. Only God's speed could get her there on time.
She ran past a fishroll joint. The rolls stuck up on a stick arranged on an iron stand. The owner of the shop was laughing with a fat man who was biting off the last piece of fish roll he held. Chibuike had always fancied the fish roll, the round shape which they were molded into with an appetizing fish placed in the middle. She had never tasted them because she was always rushing off to work.The rain increased its tempo, drenching her the more as if pushing her to make a decision. She ran back to the joint, forgetting the meeting for a while, a rebellious indulgence she had never allowed herself.The fat man offered her a piece, smiling like he would do to a child who had never had a bite before.
"Thank you," she said. The fishroll was tastier than she thought it would be from the aroma that wafted through the air whenever she ran past every morning. She stood there for another 30 minutes eating a dozen rolls from the stand.
Later on, when the rain had stopped, she walked into the company building. Immediately she signed in with the secretary, the manager called for her.
"Sir, I am sorry for coming late today, it will never happen again," She told him, sounding unremorseful. Her boss was furious.
"You did not come late Miss, you did not come for the meeting at all!" He said.
"And I will cut down your salary by 10% as a lesson to the rest of the workers. Late coming is never allowed!" He shouted! Vibrating in anger. Chibuike was alarmed.
"Sir you cannot do this! It is not stated in my agreement with the company!"
The manager replied, "late coming was not stated in the contract and I can do anything as the manager of this company. Especially when it concerns its image."
At this time Chibuike who was broken also gained a strange energy. She thought of the injustices this job had done to her. How no one cared nor appreciated her hard work, and workers were paid late with some of them begging the cashier to spare  them little money before payment, during which most of them were broke and wallowing in debts. How for 15 years she had not had a life because  this job was her life and how she survived with her salary, to which a half portion went to transportation.
"I refuse to work here anymore." She declared.
"Did I just hear you correctly?" The manager said stammering.
Chibuike could not believe what she was saying, but she kept on talking anyway.
"Yes sir, from today I no longer work here! It is foolish to work so hard for a company that doesn't recognise its workers. Sir, you do not even know my name so I will spare you the trouble of cutting my salary. Good day sir!"
The manager stood in silence, stupified to grasp what just happened. She walked out, more proud than ever before in her life. She did not bother to pack anything from her office, it was just bunch of useless papers to her.
On her way home, she saw a fine man and was attracted to his good looks. He kept staring at her. On a normal day, she would have ignored him, either too busy or too tired. But before he made his move, she made hers.
"You want my number?" she asked smirking.
He nodded, smiling and surprised at her blunt confidence. She typed the number away on his phone.
When she got home, she acknowledged the neighbors outside, finding out that a young family had just recently moved in, and an old neighbor just put to bed. She embraced the children who ran up to her as they chanted her name, their laughter filled her ears. She never thought they knew her name. She cooked that night, a treat she had not had in months, and for the first time it was satisfying.
For the next 2 weeks, Chibuike gave thanks to God. She had achieved  so much in one week than she has in years.
"Dreams are for today, not tomorrow. We live in our dreams today so we can tell the tale tomorrow." Her grandma always said and in that moment, she understood.
Tomorrow she was going to apply as an auditor in another company and she knew she would get the job. Even the devil would not steal it from her. Everything just felt right, and she realized that finally, she was living in her dream: A simple dream of a good life.
The End.
---
Hi,wonderful readers! I hope you enjoyed the last part of this story. Expect more amazing articles from me. My Facebook page is ruthjaneblack and join me on wattpad @blackpenz. My name is Ruth Felix.