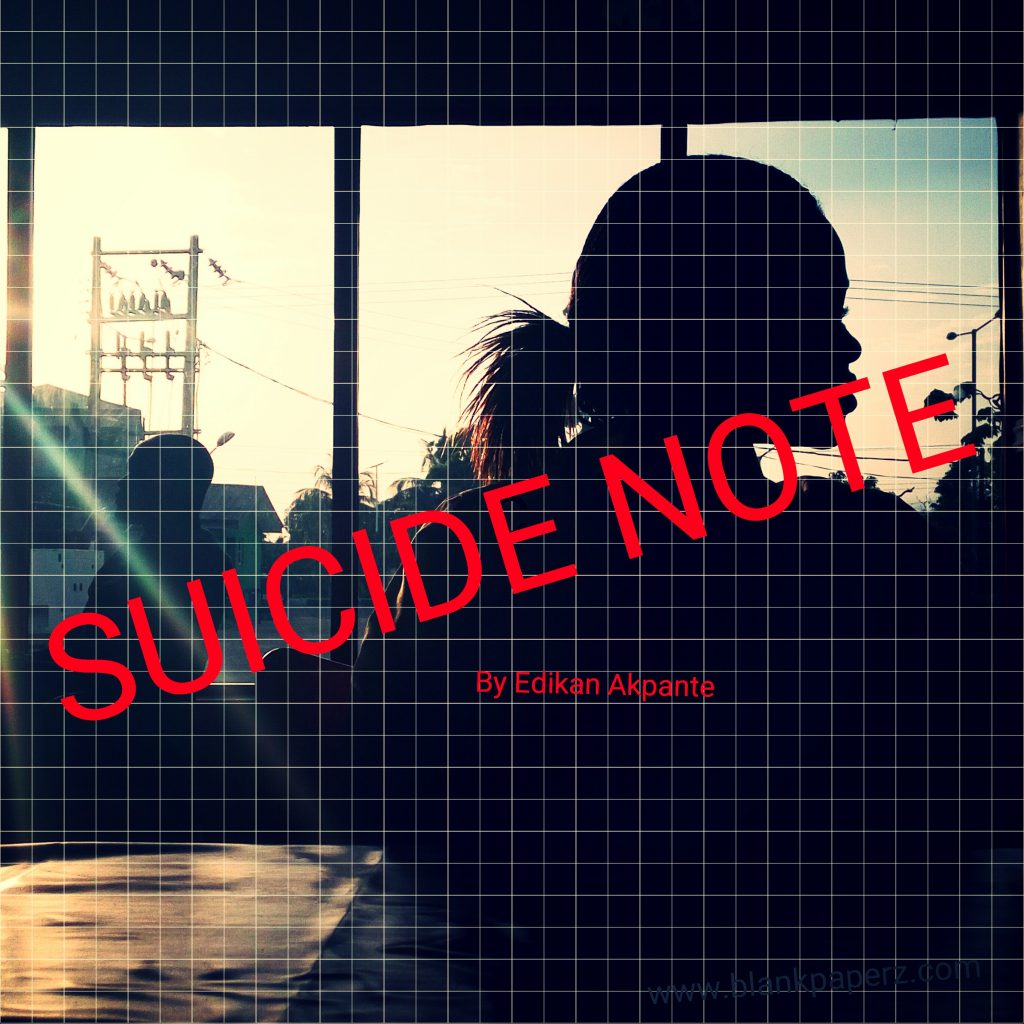 Soon my uniform was sewn and I eventually went to school with my neighbors. I attended for more than one month yet I didn't have any note of studies because my teachers were too busy, mobilizing students to cultivate their farms than in educating us. We worked in farms, drummed and played.
My father met some persons who introduced him to some touts, who load buses at junctions and roadside parks. Dad joined in tickets marketing. While mum started roasting plantain by the roadside every evening, until her sister introduced her to the big man, Hon. Richard, who was her in-law. According to mum, she did it for us. Because according to her, we were too precious to be like the ghetto children. So my mother started an affair with Hon. Richard, a man whose children were married while some were abroad and a wife who innocently waits for him every night or who knows? In this messy world, she must probably have a 'sugar-son' doing the servicing for her while her husband flirts around with younger girls. The normal thing in big men's homes in our country. Hon Richard promised to send me to school.
"You mean Becca is attending one of these public schools?" He said in disgust. He made the public schools to sound like a dungeon or animal jungle. I won't say a zoo, because zoo made it look so simple and nice, a tourist and recreation centre. Funny enough, he was once a teacher in 'one of these public schools' before the government and its favoritisms landed in his back yard. Probably, one of those teachers in these public schools who didn't bother going to school except to see how their crops were doing in their large plots of lands in school.
"Becca is too good for that, I will take care of her academics, probably make her go back to her former school."
I was happy about this development, though appalled by his attitude and air of arrogance around him.
Before now, my mother had allowed the sayings that women from her tribe don't marry one husbands, come to pass. When my dad got wind of her affair, the air in our home had changed.
"I am doing it for us! Look at our children; this is not the future we envisaged for them. I didn't have the privilege to go to school and my children must. How much does your touting bring…"
Mum had defended her actions. She said it was because she loved us. Lizzy I was confused, I am still confused. Does love really have to hurt? Is it meant to always bring pains and tears?
When my home was on fire, at the initial stage, I needed ears to tell my problems to and I found one. A very intelligent boy in my class. He was such a gentle guy but I let myself believe that he cared. "It is well" he had always consoled in a bid to help my confused self. But he took advantage of my vulnerability. I felt I owed him for all his kindness and when he asked to sleep with me, in one of the empty classrooms after school, I had blindly given in.
"What do I have to pay him for all his kindness," I had thought. I lost my innocence to him but then I found him necking another girl and all he could do was throw back my mess on my face.
"You are just a whore, like your mother," he had said when I confronted him.
"You were too easy and I don't deal with your type."
I caused it Lizzy, I told him about my mess, so he got that power and I let him have it, I allowed my stupidity and woes blind me. I was destabilized. Oh! Lizzy, please don't love. It destroyed me. It destroyed my family; mum said it was for love.
My mother decided to leave and I went with her.
"You know your daddy is an 'akboro' man. He is useless, he can't send you to school and you will never become that medical doctor you had always dreamt."
My mother advised, "come with me, uncle Richard will pay your fees but with your dad, you will be doomed".
I wanted to go to a good school so I went away with my mother, nursing the hurt of a broken heart and a broken home. "Oh! Lizzy, do you know that in some cases, it's better to be an orphan than a product of a broken home? Especially a once very loving family and organized life?" if only you understand.
Few weeks after I went away with my mother, I found out that I was pregnant. My one-time charade in a deserted class-room block bore fruits.
Well, Becca you must go to school so that you won't end up like me.
"That thing must begotten rid of," my mum said nonchalantly, like a proud queen. Her jewelries, glittered as sunrays penetrated the room. We were now living in a three-bedroom flat. She took me to a quack that performed the whole charade while I endured the whole ordeal and the excruciating pains. Abortion isn't legalized and quacks are the most common people to help in such situation. But I was almost bleeding to the point of death and mum had no other option than to take me to a private hospital, because the government hospitals may have her questioned.
"Private hospitals are good for matter of secrecy" she mumbled as she drove into one. The doctors said my womb had been tampered with, and to solve the issue, my womb had to be removed. You won't understand that pain, Physical pains, the pains of guilt and a torn soul, a wombless woman is just as good as a man. Guilt and pains I can't still get rid of.
Then Uncle Richard found me appealing to his greedy eyes. I was now in Jss3 and mum had sent me to his office to collect money for the exams…
To Be Contd. Next Week, Same Time, Same Blankpaperz.
Written by Edikan Akpante
About Edikan
My name is Edikan Imo Akpante. A student of English and literary studies department, University of Calabar, Calabar. I love telling stories. I believe that through reading a story, one can see oneself in the characters and get to understand oneself better and why her or she acts the way s/he does.