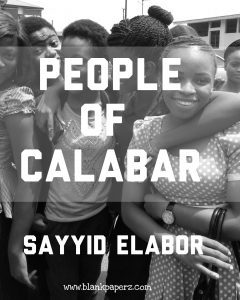 "This was 2011, my first time in Calabar. I had come down for my upcoming post-UME exams and I was staying with my elder brother in the hostel, Malabor. I was walking down to the hostel using the Goldie/Mount Zion gate when I passed this crowd. There was this guy who was shuffling cards and people were guessing where their chosen card was."
At this point, he looks up at me and I swear, I could bet how this story will end. I think he reads my mind then he says,
"Just wait, let me finish the story.
"I was standing at the edge of the crowd and the person shuffling the cards… let's just call him the hustler. The hustler looked at me and convinced me to try. I accepted. He gave me a very easy one. It was stupidly easy so I decided to try my luck and I won. All this while, I had my phone in my hand. Without even stopping for a moment, he asks me to play again and this time around, I should drop my phone with him and if I get the card correctly, I would win back my phone and 2000 naira."
Now, I can't control myself and I burst out laughing because I definitely know how it will end. We're both laughing out loud and he manages to say,
"Wait, there's more," so I listen intently all the while, creating a mental picture of the scenario.
"I felt there was nothing to lose since the first game was very easy so I agreed to gamble with my phone. This time around, he shuffled the cards so fast and asked me to choose my card and of course, this time I failed. The way he shifted to another person amazed me. He did the same trick with another person but the person didn't want to play. It took me about 10 minutes before I realized I actually lost my phone. At that point, I started to beg the hustler. I couldn't go back without my phone. I just couldn't…
"After wasting about 2 hours begging him, another guy comes up to me and says he can help me beg but I should give him something first. I had 500 naira in my pocket and I gave him blindly. Mehn, I was desperate. He was now walking away when he said I shouldn't follow him but that he was going to bring my phone back for me. I foolishly obeyed.
"As evening approached, the hustler was getting ready to pack up his stuff and I had not stopped begging him since. He then tells me that this is how the game is played. The hustler now asked me if there's any other property I have that I'll be willing to exchange with this phone. My mind quickly raced to my rechargeable lantern in my room. I told him to give me 10 minutes so I could rush and get it and he agreed. I ran so hard and so fast that people thought I was being chased. By the time I got back to the place, he wasn't there anymore."
Amidst the laughter, Sonny concludes with,
"Till today, my brother doesn't know how I actually lost that phone."
By Sayyid Elabor
About People of Calabar
People of Calabar is a personal project of Sayyid Elabor. He believes everyone has a story to tell. So he runs, jumps, and sprints around Cali town, getting random people to share their stories with him.
Everyone always has an interesting, funny or inspiring story to tell. Your story could be someone's motivation.