Nten is a teenage girl who loves putting her thoughts to paper. Writing is to her what food is to the body. She is a ferocious reader and an avid lover of poetry. She also loves to bake and eat what she bakes. Her faith is probably the most important part of her life. She lives in Calabar with her family.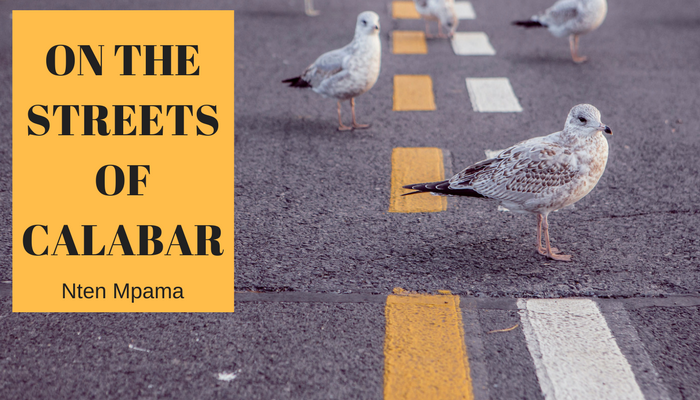 Grace knew in her heart of hearts that the dress she was wearing was inappropriate for the streets of Calabar. But what could she do? Ken had cancelled on her at the last minute; he had some errands to run.
"What could possibly go wrong?" She thought.
"I'll just walk a short distance to the road then pick a cab to Marian. How hard could that be?"
So she said goodbye to her elder sister who gave her a look that said,
"Girl, are you sure you wanna wear that?" She ignored it though.
She loved her dress. Red and very royal. It was sexy in a way that wasn't trashy. With it's plunging neckline that showed her impressive rack, she felt and looked like a goddess. It was 6p.m. The party wasn't till seven but she was already feeling good about the evening.
So, with her 6 inch heels in one hand and her clutch in the other, she started the short trek to the main road.
She had missed Calabar. Moving to Lagos had been good for her career but Calabar was still home. It was still the place she returned to, every chance she got. And that's why she was here, for her 10th year secondary school reunion.
Just a few blocks to the main road, a group of boys sat, smoking. She prepared herself for the loud calls she knew she'd hear soon. She was a Calabar girl after all. But they were also ready for her. One of them stood up and walked towards her.
"Fine girl. See as you fine. Come sit small with us na."
She ignored him and kept moving. Suddenly, he grabbed her arm and drew her closer. The strong stench of weed hit her nostrils.
"Oh my God." She thought. "These boys are high. What do I do?"
She tried to reason with them but that didn't work. "What do you want? Take my purse, please. Take anything you want."
"We no want your money. Ah, fine girl like you. Just come quietly. You sef go enjoy am."
"Oh no! Please, I beg you." She was crying now.
Dusk had fallen by this time and it was getting dark. The street was deserted except for a few people who walked on like they couldn't see what was happening. Her screams did nothing to help her.
Grace was dragged to an uncompleted building where those boys took turns abusing her. Each thrust took away something special. She wept bitterly through it all until unconsciousness took her pain away.
Twelve hours later, Grace wakes up in the hospital. She's been brought here by a group of people who found her, still unconscious.
Very traumatized, she doesn't know who she is or where she comes from.
Under a starless sky, with the evening dusk looking on, so much was taken from Grace. Her pride, her self-respect, her peace, her sanity.
She lost her home. Her city of refuge.
What Do You Think? Was It All Graces's Fault?