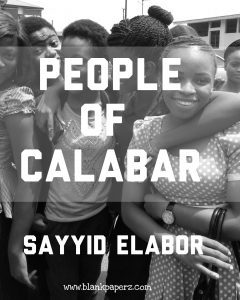 "I've had lots of goofy experiences,"
she pauses for a moment. With her eyes turned upwards in their sockets possibly trying to recollect all the memories. They stay this way for some time before a goofy grin cracks across her face. She continues.
"It was 2014. My dad suggested my sisters and I should learn to drive. Then he mentioned he saw a driving school close to our house. The next day my two elder sisters and I went to the driving school to enroll. Personally, I didn't think it was going to be so bad; I was actually looking forward to the experience of learning to drive and we began lectures immediately after enrollment. We started by learning all the traffic rules, signs and etiquettes of driving, you know… normal classroom stuff."
I could tell there was something exciting coming up because she kept smiling, and her smile was contagious. I soon started smiling and I really had no idea why.
"The next day, the driving teacher drove up to our house to pick us up. He took us to a straight, empty road so we could start practice and we were to start learning with a manual car. My sisters were awesome but I was a wreck. I lost my sense of coordination and orientation… like I kept steering the car into the gutter, I kept forgetting to change the gear and I was totally oblivious of the environment. The only skill I think I learned well was how to step on the accelerator. That entire day was a mess. I mean, I didn't know what to expect before that day, but I fell hands big time. Someone would have thought I wasn't even trying to learn."
All the while she was talking, she kept flinging her hands in the air, gesticulating and demonstrating with an imaginary steering, her driving skills. She ends her soliloquy bluntly by adding,
"It was that bad.
"I had to return to school the next day and so I couldn't even finish the damn driving lessons."
By Sayyid Elabor
About People of Calabar
People of Calabar is a personal project of Sayyid Elabor. He believes everyone has a story to tell. So he runs, jumps, and sprints around Cali town, getting random people to share their stories with him.
Everyone always has an interesting, funny or inspiring story to tell. Your story could be someone's motivation.