The Z'axis Creation Story
"I know that this path is long and hard. I know that sometimes we will fall and fail… but my commitment will not waver." – The Global Citizen Manifesto.

Long, long ago in a land quite nearby. Actually in 2017, Mirabelle who now happens to be the editorial & communications head of BlankPaperz Media, was in the US to study Social Entrepreneurship & Civic Engagement under the Study of the US Institutes Program for Student Leaders – California State University, Chico. What an intensive and eye-opening study that was! But when her studies ended, there arose a most burning mission to create a magazine for young, African social entrepreneurs, to shed light on their paths and remind them that they aren't alone on their changemaking journeys.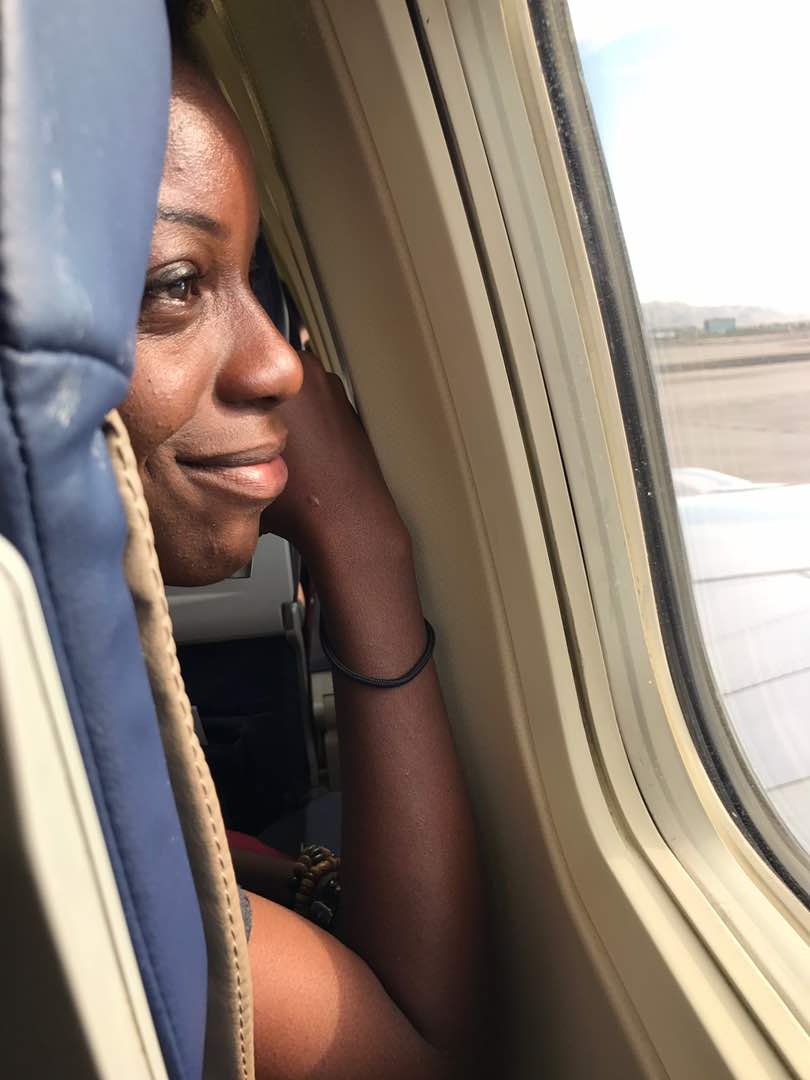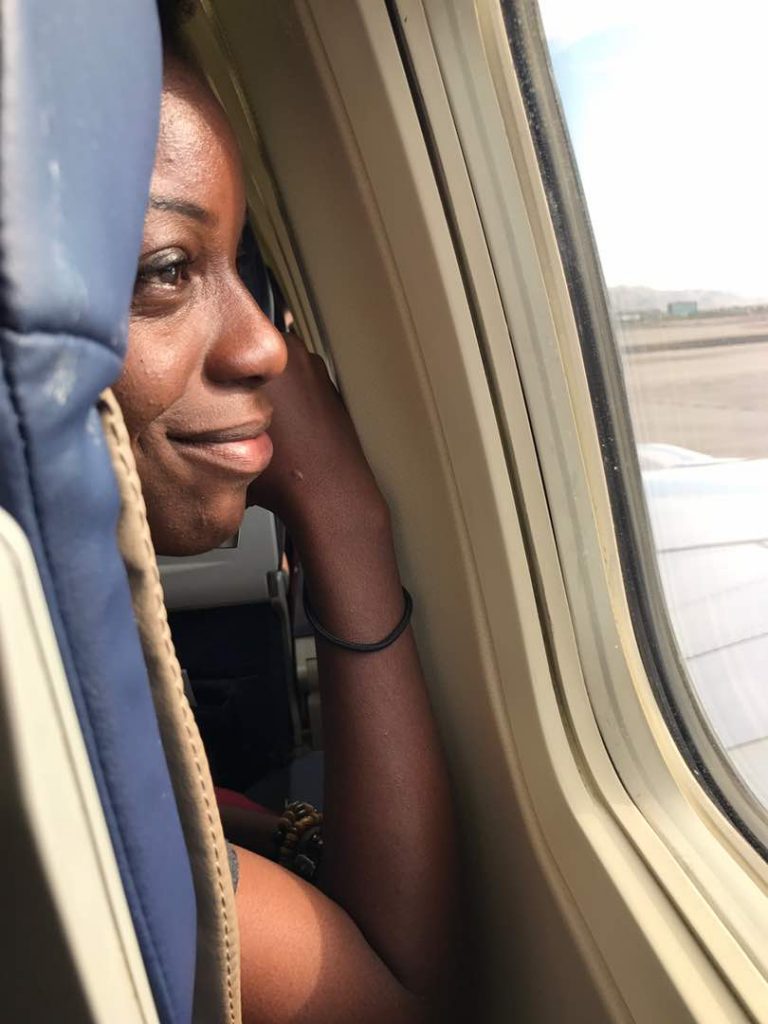 After taking a media survey on BlankPaperz Media and circulating it around Nigeria and across the African continent to know how the Media could help young people thrive more; a fantastic team of 4 (the fantastic 4, yeah?) was brought together for a powerful mission and purpose, and they immediately began working for several months, scheduling meetings and interviewing many young people from Nigeria, Mozambique, and Africans in the diaspora, asking about their stories and how they rose from financial and personal failures while trying to make a dent in the world or an impact in their communities.
How were these young, notable Africans—whom we were going to be telling and sharing their stories with others—able to build thriving organizations and projects? How were they able to tackle unwilling clients to remit their fees to them, and do even more with so little resources? You would never know until you ask, right? Right! Well, these beautiful, heart-rending, funny, and relatable stories were then brought together in love, transcribed by Mirabelle, edited by Utibe, illustrated by Aastha, stored safely and finally designed and molded into something magnificent by the expert hands and eyes of Ankita!
When the D-Day arrived, what is now known as Z'axis Magazine, was finally launched on the 25th of December, 2020! And it contains so much magical words, experiences, feelings, and stories from young Africans willing to share their stories so others can learn from them.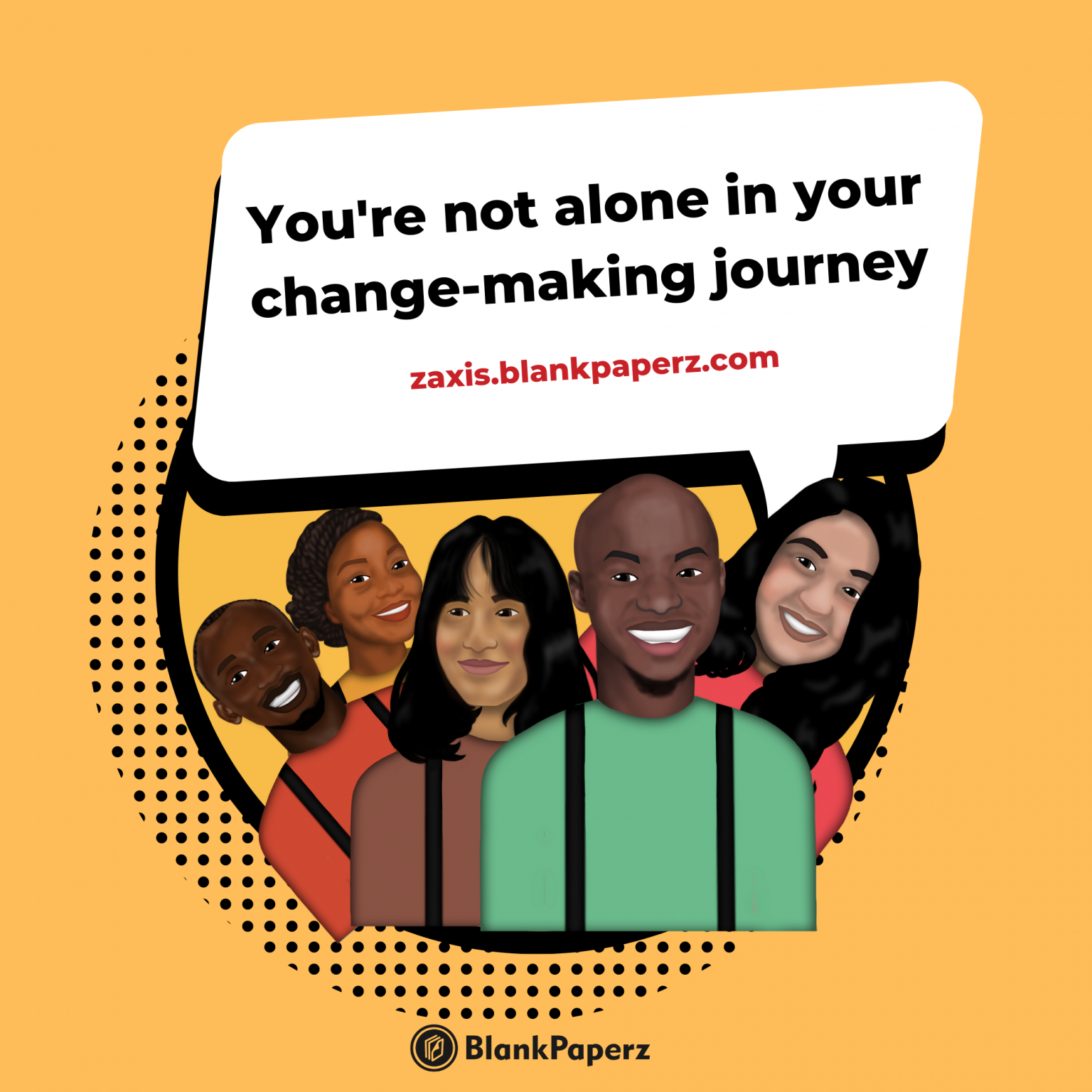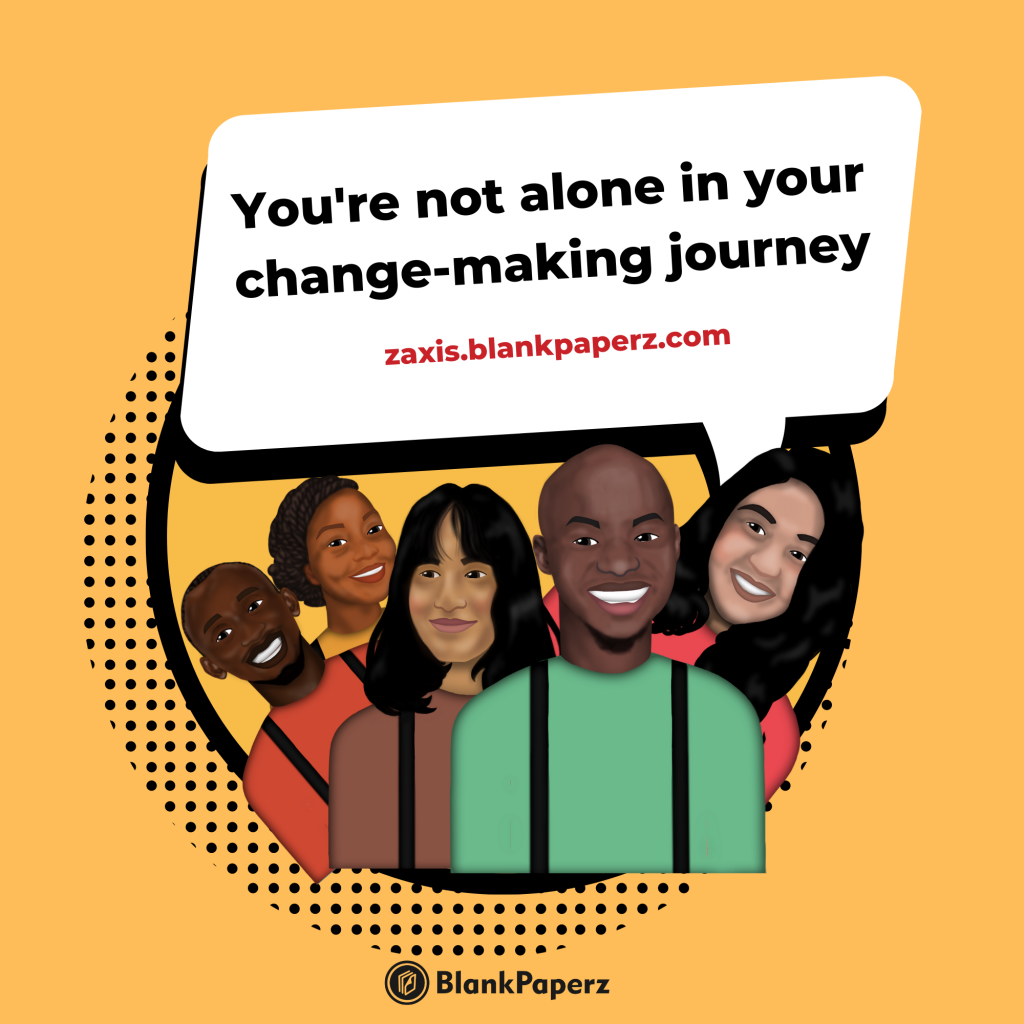 Z'axis, pronounced as zee-ak-sis (as in Z-axis) /ziːˈæksɪs/ is an e-magazine for young Africans interested in making a change and leaving their footprints in the sands of time — though people prefer leaving their footprints in concrete these days anyway. Our first edition is a reminder that you're not alone in your journey; we have been where you've been, and our shared experiences can help you move ahead.
What does Z'axis mean? It's a change in thought patterns and perspectives — from 2D to 3D — a move from old to new. And it was a name suggested by our excellent Illustrator, Aastha Shukla. We could definitely not have created this Magazine without our amazing list of contributors and team members! Now you can meet them below:
Story Contributors to Z'axis Magazine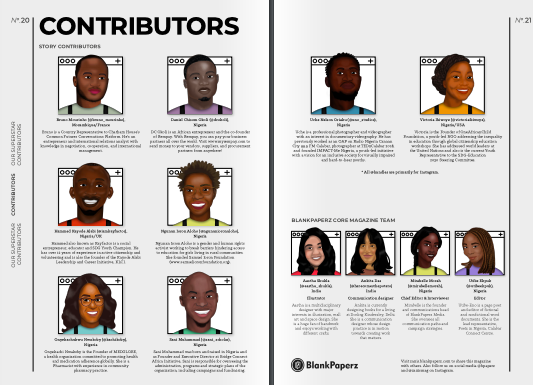 Bruno Mourinho (@bruno_mourinho), Mozambique/France: Bruno is a Country Representative to Chatham House's Common Futures Conversations Platform. He's an entrepreneur and international relations analyst with knowledge in negotiation, cooperation, and international management.
Daniel Chisom Okoli (@dcokoli), Nigeria: DC Okoli is an African entrepreneur and the co-founder of Rempay. With Rempay, you can pay your business partners all over the world. Visit www.myrempay.com to send money to your vendors, suppliers, and procurement partners from anywhere!
Hammed Kayode Alabi (@iamkayfactor), Nigeria/UK: Hammed also known as Kayfactor is a social entrepreneur, educator and SDG Youth Champion. He has over 12 years of experience in active citizenship and volunteering and is also the founder of the Kayode Alabi Leadership and Career Initiative, KLCI.
Ngunan Ioron Aloho (@ngunanioronaloho), Nigeria: Ngunan Ioron Aloho is a gender and human rights activist working to break barriers hindering access to education for girls living in rural communities. She founded Samuel Ioron Foundation (www.samuelioronfoundation.org).
Onyekachukwu Nwakoby (@kachikoby), Nigeria: Onyekachi Nwakoby is the Founder of MEDGLOBE, a health organization committed to promoting health and medication adherence globally. She is a Pharmacist with experience in community pharmacy practice.
Sani Muhammad (@sani_scholar), Nigeria: Sani Muhammad was born and raised in Nigeria and as Founder and Executive Director at Bridge Connect Africa Initiative, Sani is responsible for overseeing the administration, programs and strategic plans of the organization, including campaigns and fundraising.
Uche Nelson Oriaku (@uno_studioz), Nigeria: Uche is a professional photographer and videographer with an interest in documentary videography. He has previously worked as an OAP on Radio Nigeria Canaan City 99.5 FM Calabar, photographer at TEDxCalabar 2018, and founded IMPACT-Me Nigeria, a youth-led initiative with a vision for an inclusive society for visually impaired and hard-to-hear youths.
Victoria Ibiwoye (@victoriaibiwoye), Nigeria/USA: Victoria is the Founder of OneAfricanChild Foundation, a youth-led NGO addressing the inequality in education through global citizenship education workshops. She has addressed world leaders at the United Nations and also is the current Youth Representative to the SDG-Education 2030 Steering Committee.
The Fantastic 4 of Z'axis Magazine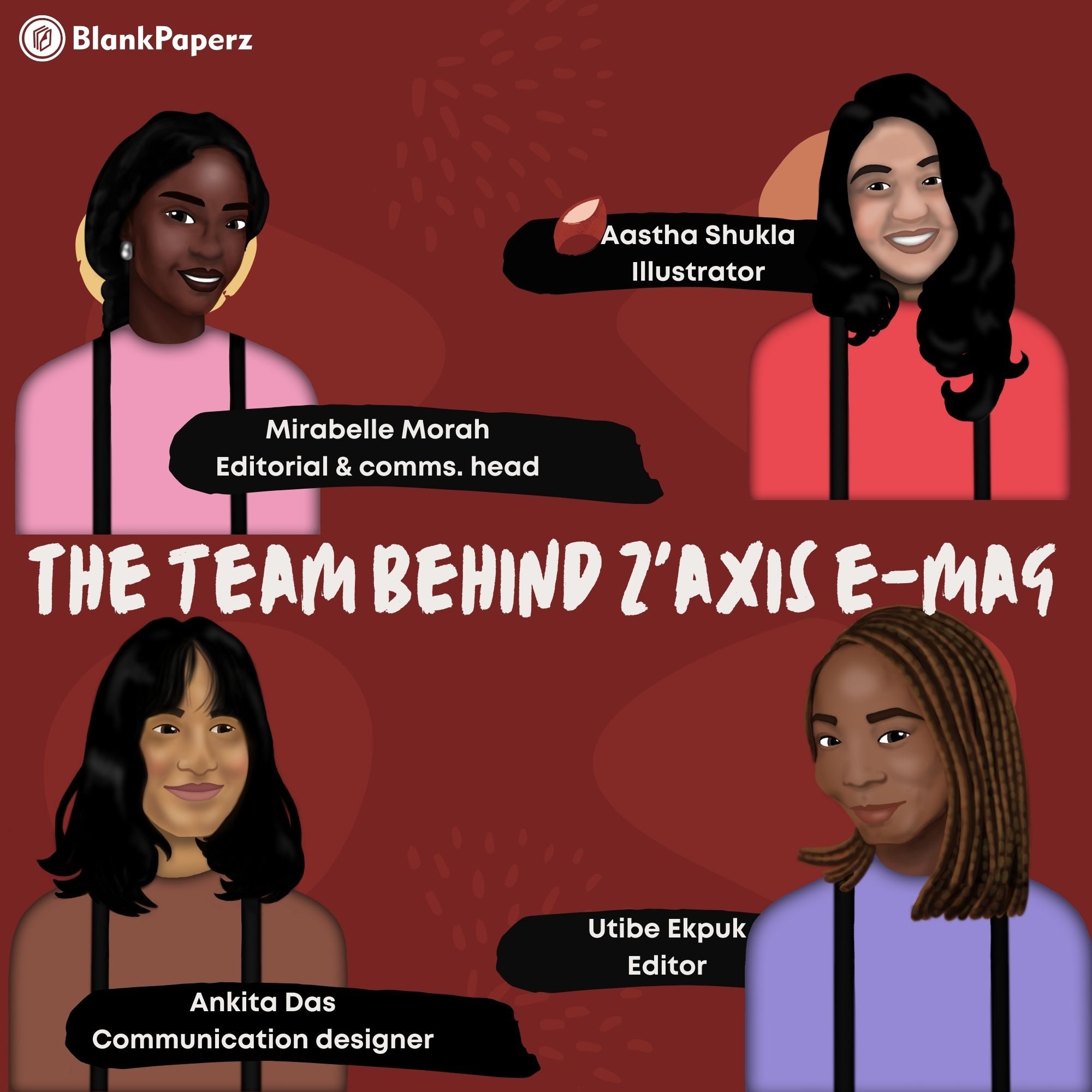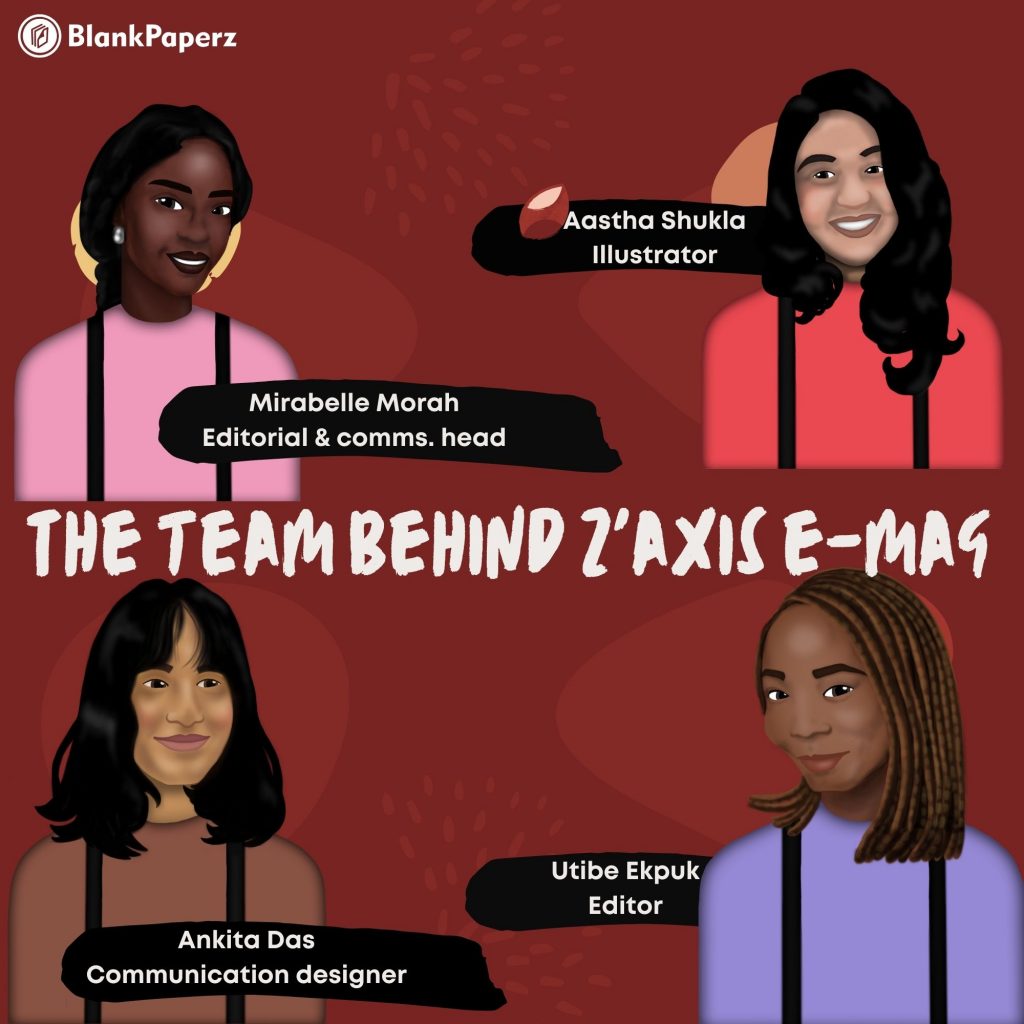 Aastha Shukla (@aastha_shukla), Illustrator, India: Aastha is a multidisciplinary designer with major interests in illustration, wall art and space design. She is a huge fan of handwork and enjoys working with different crafts.
Ankita Das (@herecomesthepotato), Communication Designer, India: Ankita is currently designing books for a living at Dorling Kindersley, Delhi. She is a communication designer whose design practice is in motion towards creating work that matters.
Mirabelle Morah (@mirabellemorah), Chief Editor & Interviewer, Nigeria: Mirabelle is the founder and communications head of BlankPaperz Media. She oversees all communication paths and campaign strategies.
Utibe Ekpuk (@utibeekpuk), Editor, Nigeria: 
Utibe-Eno is a page poet and editor of fictional and nonfictional word documents. She is the lead representative, Poets in Nigeria, Calabar Connect Centre.
---
What's even more awesome than starting 2021 and launching Z'axis Magazine with a collaborative big bang?! That's right, between January 4 to January 18, 2021, Bridge Connect Africa Initiative (run by Sani Muhammad a Z'axis Story Countributor) and Z'axis Magazine decided to partner and run an exciting New Year Giveaway Contest, and 2 fantastic winners emerged from this contest: Etudaye Musa Abdulazeez and Emmanuel Chika Eunice.
---
If you enjoy our Z'axis magazine, then be sure to share this with your close friends, family, and network. We believe in your journey, and we know you will find these stories insightful and thought-provoking.