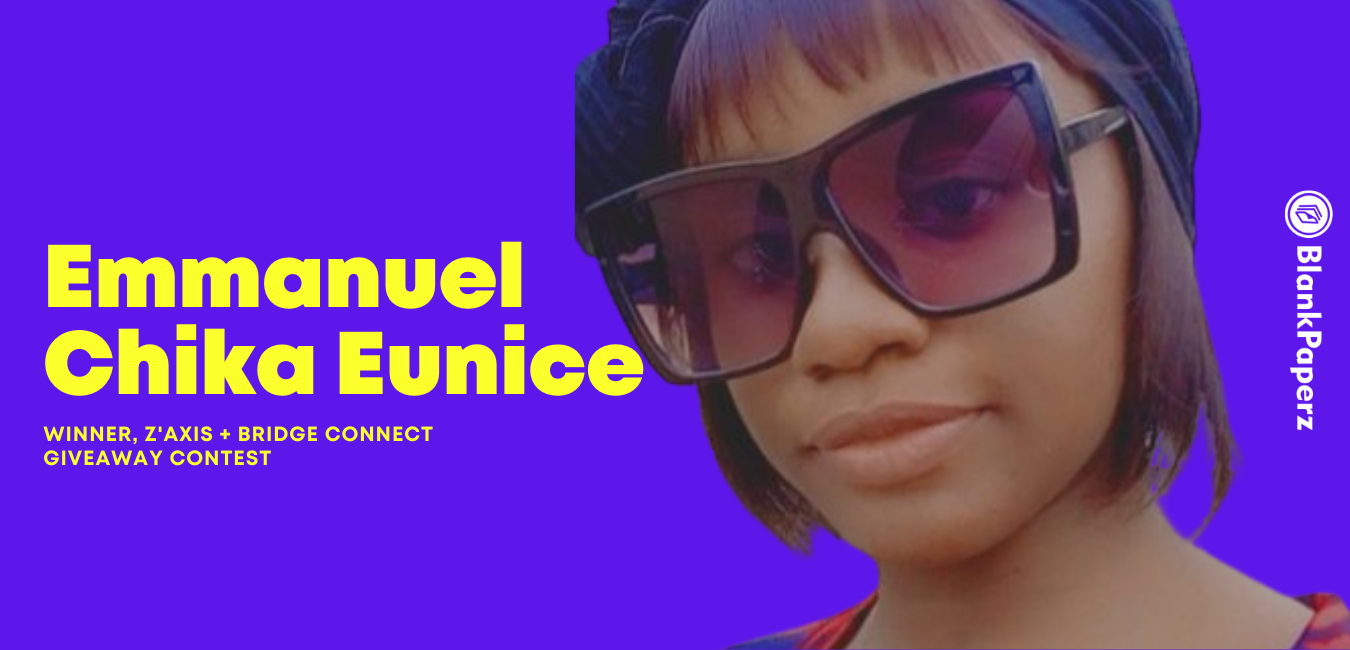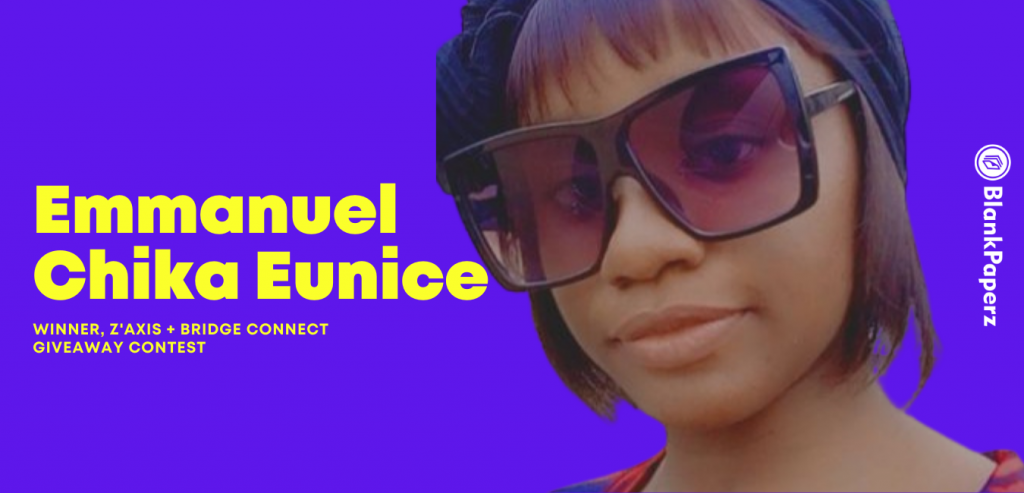 What's more awesome than starting 2021 with a collaborative big bang?! That's right. On the 25th of December 2020, we announced the launch of our exciting new magazine for young African changemakers titled Z'axis Magazine because we want everyone to understand that we are never alone in our changemaking journeys.
As though that wasn't enough, between January 4 to January 18, 2021, Bridge Connect Africa Initiative and Z'axis Magazine decided to partner and run an exciting New Year Giveaway Contest, and 2 fantastic winners emerged from this contest: Etudaye Musa Abdulazeez and Emmanuel Chika Eunice.
But first, let's meet one of our winners: Emmanuel Chika Eunice.
When I saw the Z'axis Magazine + Bridge Connect giveaway contest, I honestly didn't want to participate. I was like 'I'm just going to read the stories, and that's it.'

Emmanuel Chika Eunice
Isn't it exciting to be a winner these days? Let's meet you and what's your story?
My name is Emmanuel Chika Eunice and I'm a university student, which I also juggle with writing. As a writer, I have faced so many challenges from rejections in competitions to feeling downtrodden anytime I didn't win a competition. Last year, I contested in so many writing competitions, shortlisted for some, but didn't win any. I felt like I wasn't doing enough.

For a particular contest, when the winner was announced and it wasn't me, I felt bad. But after reading the winning entry, I realized why I wasn't picked. The contest required a simple entry and I wrote a complex one.

As human beings, we should learn that rejection doesn't mean you are bad at what you do. It may just mean that 'complex' entry that you poured your heart and soul in, is not what they are looking for. When I saw the Z'axis Magazine + Bridge Connect giveaway contest, I honestly didn't want to participate. I was like 'I'm just going to read the stories, and that's it.' But when I read the heartwarming stories, they really resonated with me, especially that of Victoria Ibiwoye, I was so glad to learn that I was not the only one who faced multiple rejections. So I decided to air my opinion on the provided forum. I never knew I was going to win, but I am honestly glad I took the plunge!

I'll like to advise everyone today to take the plunge 'cause you'll never know if you'll win except you try. 
And when you wake up every day who makes you madly proud? And who inspires you to live and lead your best life?
I don't have a particular person that motivates me. I think for me it is every success story I hear that is my biggest motivation; how people keep pushing forward despite the hurdles on their way, and how elated they feel when they finally reach their goals. My major motivation now becomes 'If they can, so can I.'

Also, 'what if' is part of my motivation. I always ask myself anytime I feel reluctant to enter a competition after my recent loss, 'what if this is the competition where I finally clinch that win?' Then that motivates me to try!
Always shoot your shot! That's the plan, so what is that quote or principle you've always lived your life by?
"If you want it so bad, then you have to work harder to get it."

There is no room for giving up. You fail time and time again? Then pick yourself up and try again.
Sweet! But is there any project you are currently working on right now that you want others to know about?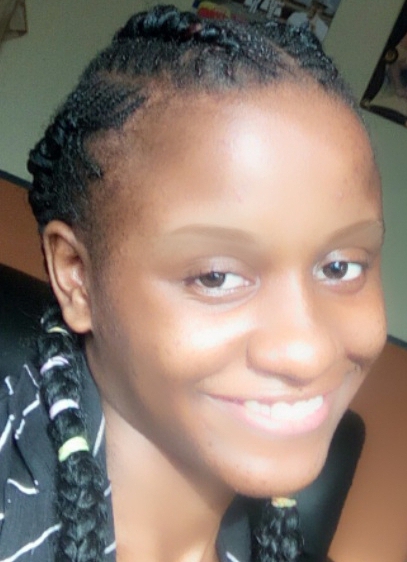 University is quite stressful at the moment due to the long break we had due to the coronavirus pandemic. So all my writing plans are on hold. But if stress declines, I plan to write a novel this year.
We wish you the best of luck! Any last words for your fans out there and for the people who love you so much?
I am a writer so I am always looking for a bigger audience to showcase my work. The truth is as a writer, the way to know if your work is a 'hit' or a 'miss' rests in the hands of your readers and not you. Readers tend to give their undiluted and unfiltered opinion about your work. So if people can check out some of my novels on Wattpad. My name on there is Emma Eunice or @strawberrytifles. I will truly appreciate it.
Thanks Z'axis Magazine, Bridge Connect Africa and BlankPaperz for this amazing opportunity. I truly appreciate it and I hope people can learn never to give up. Keep pushing, you'll surely get there one day because 'Aluta Continua, Victoria Ascerta!