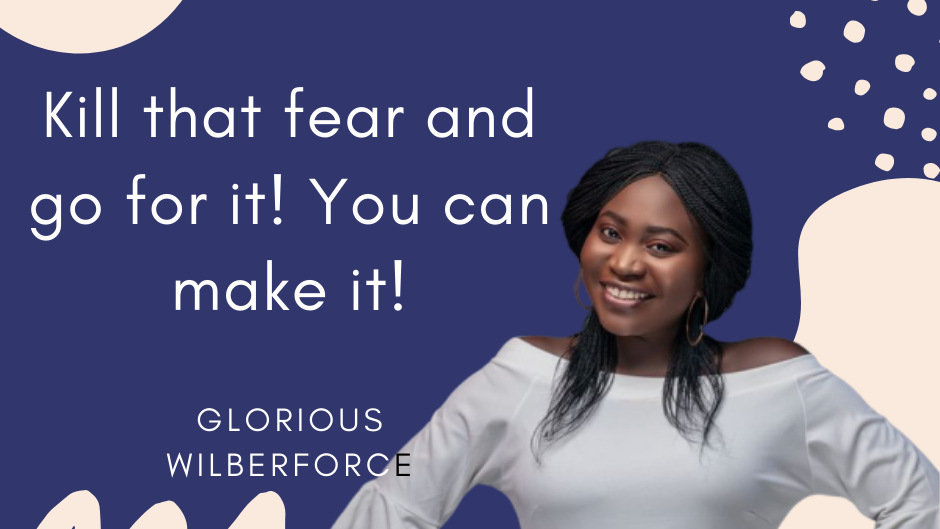 "No experience is useless and therefore should not be wasted" – Temple Odoko
"I have seen slaves on horses, and princes walking like slaves on the earth." – Ecclesiastes 10:7 (AMP version)
"At every step of yours, always wear a positive and possibility mentality." – GreatGlorious
"Die [as] your true self, die [as] your fulfilled you, not an incomplete or average you." – GreatGlorious
My love for Christian literature can't be denied by any who comes close to me: reading and being conversant with gospel materials was one thing my contemporaries knew me for. While in Senior Secondary (SS2), one day the principal, Ma Fumbi walked into our class to inform us of a quiz competition on Christian Religious Studies (C.R.S.) and requested for the most proficient student in the class. The whole class immediately shouted my name in unison; she then demanded I stand up for identification. At the end, I was picked alongside another student in SS1 called Success to represent the School.
Never let fear rob you of being a celebrity that you ought to be, by not going for that talent hunt. Don't let fear kill your dream of being a lawyer because you failed your first JAMB exam.

Glorious Wilberforce
Preparation for the competition was intense as the competition was to take place in a few weeks' time. I secured the assistance of a brother in church whose knowledge in C.R.S was profound. He engaged me for one (1) hour every day after school. The Principal and our C.R.S. teacher also made sure we were adequately prepared for the competition.
Three days before the competition, I had a dream: I saw myself on a podium where I answered questions and received gifts at the end. I was also ushered into a very beautiful car alongside two of my teachers. On waking up, I pondered over the dream and revealed it to my mum alone. She prayed with me and encouraged me to be aware that I have a beautiful future.
The D-day for the competition came; our C.R.S. teacher and the Vice-Principal were assigned to go with us. The Principal also instructed I represent the school as though the competition involved one person, but if it demanded two, then the other girl should join me. As we journeyed, I had much anticipation; questions upon questions filled my thoughts, and all I wished at that point was for the competition not to take place. I felt I needed more time to prepare. The other girl tried to engage me in a conversation, but I wasn't interested. When we arrived at the venue, it was filled with students from various schools and I admired the array of uniforms, as well as made a few new friends. I saw two of my primary school mates and my Apostle in the church who showed much excitement at seeing me as a contingent. He said to me,
"You can do it, I trust you."
The time finally came and the schools were called upon to bring one representative each. The Vice Principal turned to me with a smile and said, "Let's go." I shook my head in refusal and pointed to the other girl. She tried to remind me of the Principal's instruction which I ignored. Rather, I confessed my fears that I couldn't represent the school. They were surprised and tried to encourage me, all to no avail. So, the other girl was asked to go represent us. The competition was quite fierce, but my school clinched the first position. The top three winners were rewarded with gifts and awarded scholarships also.
On our way back to school, my C.R.S. teacher counseled me on the need to conquer fear and develop self-confidence. Pondering on her words and the honor I had missed, my dream flashed back immediately, with the stark realization that the podium, the gifts and the car taking us back were the same. Realizing it as a big mistake, I felt disappointed and ashamed of myself, and regrettably wished for a replay of the whole incident but it was too late. On getting to school, although the Principal was happy we won, she expressed disappointment in me.
The next day, Miss Success was called out during the school's morning assembly and celebrated, with the public handing over of the documents of the scholarship to her.
At home, dad and mum also expressed their grievances about my act. It wasn't easy going through those days, but it taught me a life lesson.
Funny to say, that I missed the first scholarship I would have gotten in life because of fear and failure to believe in myself.
I have come to realize that nothing in life is gotten on the basis of fear, neither is anything gotten without self-belief. I ask myself the very fundamental question; what if what I lost was unamendable? Many are failures today because they let one thing or the other limit or stop them.
Has fear stopped you from starting that business? Has fear killed that dream, idea and vision of yours? Has fear killed your academic goals and career? Has fear made you miss an opportunity in life? Has fear denied you from being celebrated or has fear made you look like a disappointment to people? Then I charge you this day, get up and push it off your track. You can do it and you can be all that you wish to be, believe and strive towards your dreams. Self-confidence is crucial; at every step of yours, always bear a positive and possibility mentality.
Never let fear rob you of being a celebrity that you ought to be, by not going for that talent hunt. Don't let fear kill your dream of being a lawyer because you failed your first JAMB exam. Don't let fear kill your ideas because it seems impossible. Remember each time you fail to carry out a function or assignment required of you, you dash the hopes of people who believe and trust in you, and deny yourself of functioning in the capacity that lies in you. Never let the "YOU CAN" statements said to you by loved ones go down the drain.
Think about the people you've let down, think about the trust you've killed because of fear. Man has no limits except the limits he creates for himself. You can start that business, you can finish that project, you can get that degree and you can do the unimaginable. Fear has not solved any societal problem, fear has not given any favour, fear has not made any great, rather it has killed dreams, ideas, visions, and goals. It has made presidents die as servants, it has made legends, kings, professors etc. die as beggars, average men, and failures. There might not be a second chance. There might never be the same opportunity as the one you missed.
When we learn to do the things we fear, we achieve our desired results, when we refuse to see limits to the heights we can attain, we get so high. Don't let illusions, false tales, stories, circumstances, trials, or assumptions rob you of success. Don't let fear make you miss out on the opportunities that open up your way, as long as your heart is set to do it and it's a right course, you can achieve it.
Kill that fear and go for it, you can make it!!!
Glorious Wilberforce known as GreatGlorious is a young lady in her twenties passionate about youth capacity building and development. A writer and civil servant. Served in various capacities both social and religious positions. Soon to be author and the convener of the USL (uniqueness and self love) project, an advocacy project.
Be sure to follow Glorious Wilberforce on Facebook, Instagram and Twitter.