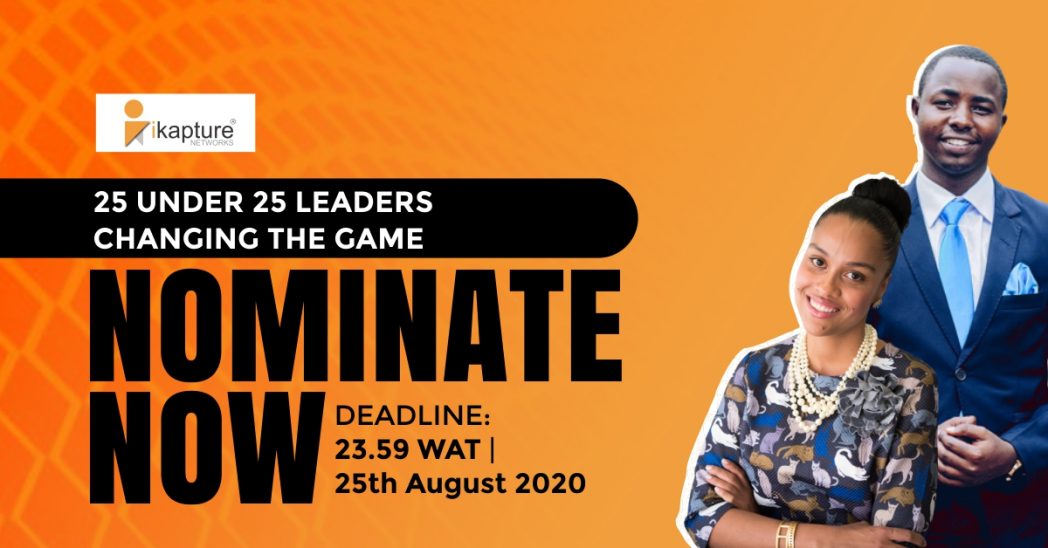 The search is on and it's time to think of all the amazing Under 25 people you know! iKapture Center for Development is now accepting nominations for the 25 Under 25 Leaders Changing the Game award.
In commemoration of International Youth Day and in celebration of the 10th year anniversary of its flagship program: Youth Leadership, Entrepreneurship And Development (YLEAD), the iKapture Centre for Development has launched the 25 Under 25 Leaders Changing the Game award.
What is this award about?
Young people today have taken the step to serve as bridge builders who have chosen to transform their communities at local, regional, national and global level. The 25 Under 25 award celebrates young African leaders who are championing change in their communities through the UN Sustainable Development Goals. Nominations are now open to changemakers, entrepreneurs, volunteers, and advocates under 25 years across Africa.
"We have come a long way in our youth work and have churned out outstanding young leaders who have gone on to change the game in various sectors. We believe there are more people like them whose stories can help inspire and uplift the upcoming generation. Through this initiative, iKapture will recognize the exemplary work undertaken by young people across the continent. Our mission is to inspire impactful actions by young people in their communities and to lead the drive towards successful actualization of the UN Sustainable Development Goals in Africa."

Grace Ihejiamaizu, Founder of iKapture Centre for Development.
The award launch coincides with the 2020 International Youth Day with the theme 'Youth Engagement for Global Action,' which seeks to highlight young people who are working to ensure sustainable development in their various communities and provide ways for more young people to engage.
What categories can I nominate people under?
25 finalists will be shortlisted from a list of nominations based on these 6 key categories:
Poverty Eradication (SDG 1, 2)
Education (SDG 4, 17)
Environment (SDG 6, 7, 11, 13, 14, 15)
Health (SDG 3)
Human Rights (SDG 5, 10, 17)
Entrepreneurship/Innovation (SDG 8, 9, 12)
Amazing! What are the award benefits?
The finalists will:
Receive an e-award certificate
Be featured and recognized globally on iKapture Network's social media pages, BlankPaperz online publication, and Opportunity Desk. 
Participate in a Virtual Meet-up with select Change Makers across the globe
Who is eligible?
Award, nominees must:
be aged 15 to 25 years;
be a citizen of an African country;
have been engaged in development work, business or engaged in a leadership role for more than 12 months – either in a professional or voluntary capacity;
have a strong track record of implementing innovative ideas and linking their work and its impact to one of the 17 SDGs;
have demonstrated an understanding of the importance of youth engagement in key areas of development, business and leadership.
Entrants can nominate themselves or be nominated by someone who can testify of the impact of their work.
Fantastic and I'm game! How can I nominate myself, friends, and people I know?
Yes, you can nominate yourself and anyone else you know who fits the eligibility criteria. Visit this link to apply or nominate someone.
Deadline
Entries must be received online by 23:59 WAT on 25 August 2020. Click here to nominate.