Grandma had come visiting. I knew this visit bore doom for me as I had overheard her severally over the phone, asking my mom why she hadn't circumcised me. My mom on those occasions tried talking her out of it, telling her it wasn't necessary but Grandma had insisted, saying our age-long tradition wouldn't stop because of me and she wouldn't watch her grandchild become a prostitute later in life.
I was young but I knew the process was painful. My friends in school always complained about the pains and they talked about how lucky I was to not have been circumcised. Grandma kept to her words and came with her instruments. Not even my tears or mom's pleading eyes could stop her.
Down to work she went. I remember my mom held me on the mat where I laid, reassuring me. It felt like a death sentence for me. Suddenly, the look on Grandma's face changed, it was no longer the confident face with which she started. I looked down and saw myself lying in my own pool of blood. Mom shouted and I knew the operation had gone wrong.
All I could remember was the sound of the ambulance before I passed out. I was only 10.
---
Other myths surrounding female genital mutilation include the belief that the female genitals would grow to the size of the penis if not cut.
We live in a world where the girl child is denied her basic rights and freedoms including right to health, security and physical integrity; right to be free from discrimination, right to be free from torture, inhuman and degrading treatment and right to life in procedures that result to death. It is sad to know that of the many issues facing the girl child such as gender inequality, female genital mutilation is still an issue that is prevalent even in this 21st century, across several regions of the world. Statistics show that about 200 million women worldwide, and alive, have been made to undergo this torture.
According to the World Health Organization, female genital mutilation which the layman otherwise calls female circumcision includes procedures that intentionally alter or cause injury to the female genitalia for non-medical reasons.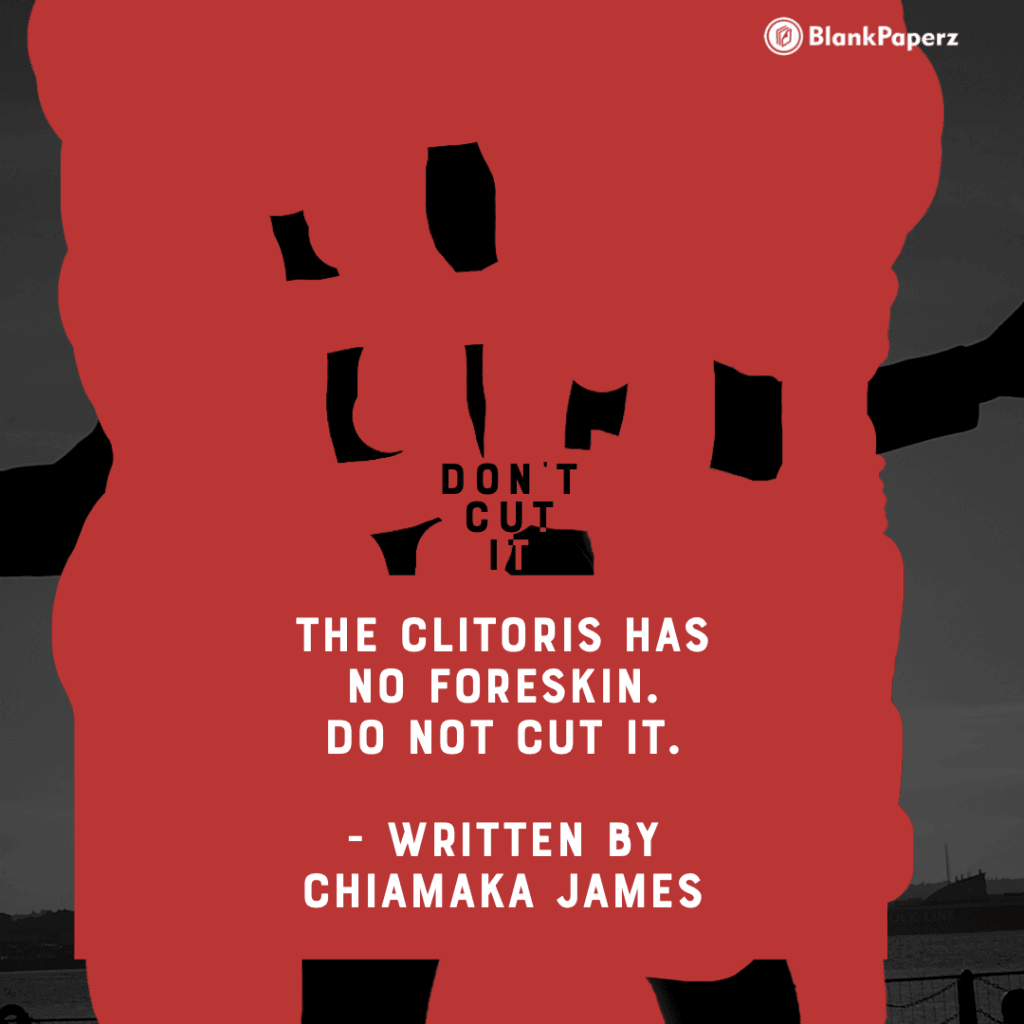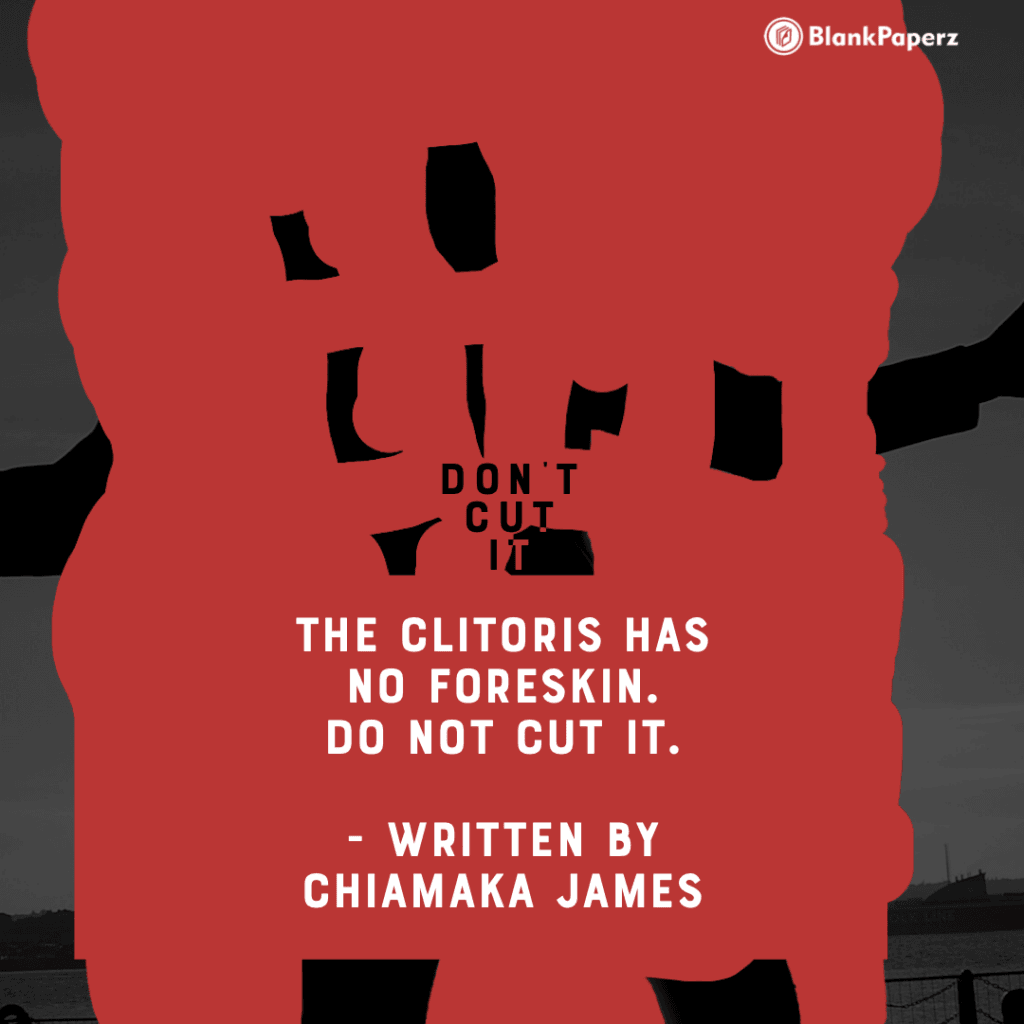 Addressing female genital mutilation as circumcision is wrong because the act of circumcision involves the removal of the foreskin which the clitoris lacks, unlike the penis. It would be right, therefore, to call it by its ugly name because it physically harms, renders imperfect, defective and also impairs the use of the clitoris.
Female genital mutilation has been summarised into four types:
Type I

which is also known as

clitoridectomy

involves the partial or total removal of the clitoris.

Type II

also known as

excision

is a higher form of Clitoridectomy in that the labia minora is also partially or totally removed alongside the clitoris.

Type III

also known as

infibulation

involves the narrowing of the vaginal orifice with a covering seal. This seal is formed by cutting and repositioning the labia minora and/or labia majora. Later on in life, infibulated women may be cut open on the first night of marriage and/or before childbirth.

Type IV

involves all other harmful procedures to the female genitalia for non-medical purposes such as pricking, incising, piercing, scraping or cauterization.
Do not cut it.
This practice has its origin and significance shrouded in secrecy, uncertainty, and confusion. The reasons for this cruel act given by those who practice it, hold no water. This act in its entirety has no health benefit for the girl child, rather it leaves permanent scars on the physical, psychological and sexual life of the girl child. The physical effects include severe bleeding, problems urinating, cysts, infections, complications in childbirth, increased risk of newborn deaths and also death in girls of all ages. The anxiety and post-traumatic stress are some of the psychological effects accompanied by female genital mutilation. Also, studies have shown that victims of this act end up not enjoying sexual activities later on in life.
Female genital mutilation is an extreme form of discrimination based on sex. It is believed to curb promiscuity in girls and is seen as a way to control women's sexuality. This practice is seen as a test for marriageability and is highly linked to child marriage. Mothers who have lost their voice in society, subject their daughters to this act to avoid them being ostracised, shunned, disgraced and declared ineligible for marriage in the society.
Other myths surrounding female genital mutilation include the belief that the female genitals would grow to the size of the penis if not cut; promotion of virginity, prevention of the female genital from smelling and also increasing matrimonial opportunities. In some parts of Nigeria, the cut edges of the female genitalia are smeared with secretions from a snail's footpad. The reason given is that the snail being a slow animal will make the woman slow to sexual activities in the future. All these have been proven to be scientifically and medically untrue. There's, therefore, no justification for female genital mutilation.
The girl child is deprived the right to her own body as this act is carried out without her consent and for some, they are deceived into believing it's an initiation from girlhood to womanhood that is accompanied by dancing and giftings.
Inasmuch as culture and tradition are important parts of the society, harmful cultural acts such as female genital mutilation should be stopped. There's a need to stop this act of violation of human rights, a need for legislation against this act and also proper health education in the society. We all should lend our voices to this cause by saying NO to this act and also by educating people in our neighborhoods who engage in this act. It requires our collective effort to put an end to this.
The girl child cries to be emancipated from this torture, it is our duty to lend our ears to listen and also lend our voices to make sure this act is abolished.
The clitoris has no foreskin. Do not cut it.
[su_divider text="Written by Chiamaka James" divider_color="#000000″]
I'm Chiamaka James, a teen writer. I write about pressing issues facing teens and young adults and how to tackle them. I do this on my Facebook page which is TeachtheTeen. I also advocate for the girl child and write about the injustice meted to the girl child.
Also read about Wadi Ben-Hirki who fights for women's rights in Northern Nigeria. On the other hand, Yecenu Sasetu is a Health Journalist and Deborah writes about injustices meted on young girls.