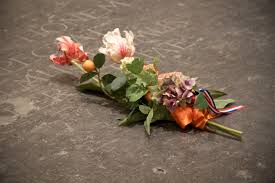 Papa,
My palms are full of rust
They have missed your romance
The lines are confusing
We have lost their foresight
The white spots are back on my fingers
We have lost their interpretation
My hands still shake
Mama calls it convulsions
She said your shadow has left us.
Papa,
My ears have lost its tenderness
Your whispers, it has missed.
My eyes have gone to sleep
They are weary of waiting.
My feet have grown carelessly
They have lost their compass.
Papa,
My kernel nut shot out last night.
Mama said I should hide it from hungry hunters.
My back aches, the nuts have overgrown their cover.
Papa, my heart yearns earnestly for you.
My body aches to be carried on your soothing thighs.
Papa,
The last time you came home accompanied by a siren
Mama, said you were resting beneath the orange tree.
Each morning,
I drop your water, chewing stick and a bowl of ugwu, hoping you wake to eat .
Papa,
When will you wake up and call me Nenyenwa as you tickle me.
When will you carry me on your thigh and sing me
Ada my Queen
in to my ears.
Papa,
The Orange tree has become my abode.
I wait hoping my little drawings will awaken your heart.
Papa…
I miss you!