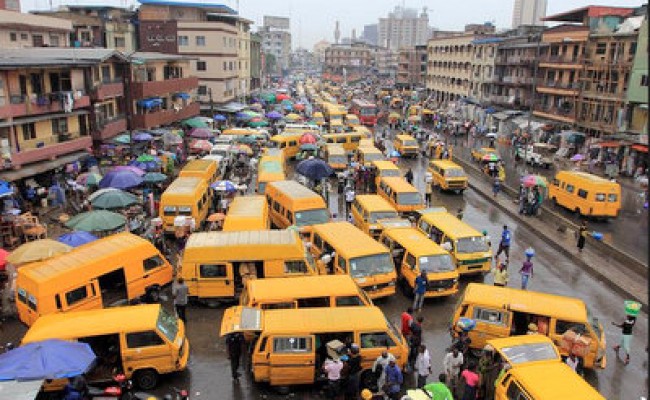 "Mile 2! Oshodi!"
Voices of drained hustlers filtered the air, as each dressed like the streets they represent paced about snatching passengers. There was no dull moment here, this was Ojota, and you better decide early on which bus to enter before two conductors dragged your luggage like a piece of meat served to two hungry beggars.
"Bros, Oshodi?"
One was already breathing down my neck, the Lagos sun was no longer bathing him, he was swimming in the heat; sweating profusely like a man who just had a hot quickie. Scars were like signposts on his cheek, each of different size pointing to different angles, and his skin colour already bleached black by the Sun.
Without waiting for an answer, he had already dashed out to snatch the luggage of a man approaching the bus stop, that's what they do. They assume you are going their route and without even asking you they snatch your luggage, any other question of your destination might come after your luggage had been tucked in the trunk of their car. Eventually if you weren't going their route, they brought it down while looking for other passengers.
I stood silently at a corner where I clutched my bag tightly like someone was going to snatch it, always looking around for an unsuspected thief, and checking my pockets at intervals to make sure my monies were still intact. I have heard a lot about pick pockets and as a sharp guy; they ain't picking mine, at least not yet. I had in my left pocket monies for my Transport already broken down to small currencies, I was not giving any conductor any huge amount, I also heard they run away with change. They ain't running away with mine. Me na sharp guy.
I didn't respond to anyone who spoke a language I didn't understand, I only nodded because I didn't want to show anyone that I was a novice here, they can always capitalize on that to dupe me. I always sized you up, if you were wearing flowing gowns and a cap, or with long tribal marks, then we have no conversation.
I watched the Lagos bus stop drama play out. I knew where I was going, but didn't know the route to the place. Confusion was beginning to set in, that kind of confusion you get when no conductor is mentioning your destination.
***Afterall for Awka where we roll, na only one route we dey ply, Unizik-Tempsite-Eke Awka – Amawbia. One bus would convey you to those places. Getting a bus wasn't hard as compared to Lagos where you can get 10 routes at one Bus Stand
***
Soon another bus arrived, and this time the destination was different and that tripled my confusion.
"Badagry!"
I tried asking one of the passengers waiting as well, that was when I realized that not all Lagosians knew Lagos. The place sounded familiar to her, but she couldn't help my situation, sounding familiar and familiar aburo the same. Like Phyno, she couldn't connect me.
Just as I was recovering from the earlier confusion, they came in their numbers
"Ketu!" "Maryland!" "Ikeja!" "Oshodi!"
Geez! All at a time, each bus struggling for passengers plying their route, the scene was chaotic. Now my confusion had really been triggered.
The network wasn't being friendly, and I couldn't connect to my host.
This is what happens when you enter Lagos in a night bus
Augustus Bill
©2015
WWW.AUGUSTUSBILL.BLOGSPOT.COM
About Augustus
Augustus Bill, is a Nigerian born Writer | Blogger | Publicist | Journalist | Artistic Director who dedicates time and ideas to creativity, doing justice to lines and fonts.